Press release
Better care for mental health crisis
A new agreement between police and the NHS seeks to improve mental health crisis care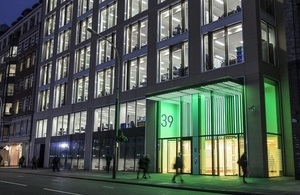 Emergency support for people in mental health crisis is set to see dramatic improvements across the country as part of a far-reaching new agreement between police, mental health trusts and paramedics.
The agreement – called the Crisis Care Concordat – has been signed by more than 20 national organisations in a bid to drive up standards of care for people experiencing crisis such as suicidal thoughts or significant anxiety.
The Concordat, announced today by Care and Support Minister Norman Lamb, will help cut the numbers of people detained inappropriately in police cells and drive out the variation in standards across the country.
Deputy Prime Minister Nick Clegg said:
A mental health crisis can already be distressing for individuals and all those involved, but when people aren't getting the right support or care it can have very serious consequences. It's unacceptable that there are incidents where young people and even children can end up in a police cell because the right mental health service isn't available to them.

That's why we're taking action across the country and across organisations to make sure those with mental health problems are receiving the emergency care they need.

We want to build a fairer society – one where mental health is as important as physical health – and the Crisis Care Concordat is an important step towards addressing this disparity.
The concordat, which has already been signed by 22 organisations including NHS England, the Association of Chief Police Officers and the Royal College of Psychiatrists, sets out the standards of care people should expect if they suffer a mental health crisis and details how the emergency services should respond.
It challenges local services to make sure beds are always available for people who need them urgently and also that police custody should never be used just because mental health services are not available. It also stipulates that police vehicles should not be used to transfer patients between hospitals and encourages services to get better at sharing essential need-to-know information about patients which could help keep them and the public safe.
Norman Lamb, Care and Support Minister, said:
When someone has a mental health crisis, it is distressing and frightening for them as well as the people around them. Urgent and compassionate care in a safe place is essential – a police cell should never need to be used because mental health services are not available. For me, crisis care is the most stark example of the lack of equality between mental and physical health.

The NHS and police already work well together in some areas, but it is totally unacceptable that crisis mental health care is so variable across the country. It is imperative that all areas seek to implement the principles of the Concordat as quickly as possible to ensure consistent care, no matter where you live.

Better care for people in mental health crises will not only help those living through their darkest hours to recover – it can also save lives.
Local areas will now sign their own regional and local agreements to commit to working together across services to improve care and potentially save lives.
The Crisis Care Concordat challenges local areas to make sure that:
Health-based places of safety and beds are available 24/7 in case someone experiences a mental health crisis

Police custody should not be used because mental health services are not available and police vehicles should also not be used to transfer patients. We want to see the number of occasions police cells are used as a place of safety for people in mental health crisis halved compared 2011/12

Timescales are put in place so police responding to mental health crisis know how long they have to wait for a response from health and social care workers. This will make sure patients get suitable care as soon as possible

People in crisis should expect that services will share essential 'need to know' information about them so they can receive the best care possible. This may include any history of physical violence, self-harm or drink or drug history

Figures suggest some black and minority ethnic groups are detained more frequently under the Mental Health Act. Where this is the case, it must be addressed by local services working with local communities so that the standards set out in the Concordat are met

A 24-hour helpline should be available for people with mental health problems and the crisis resolution team should be accessible 24 hours a day, 7 days a week
Minister for Policing, Criminal Justice and Victims, Damian Green said:
The signing of the Concordat is a demonstration of what can be achieved when people work together. From today each organisation will have a clear set of principles to follow and vulnerable people experiencing difficulties will be able to get the right help when and where they need it.

In the past six months the government has made significant progress with the introduction of street triage pilots, which brings together police officers and mental health practitioners to allow for early intervention for vulnerable people. On top of this we are piloting schemes in which mental health nurses are stationed in police stations.

There is obviously still some way to go, but these measures will ensure police officers can focus on fighting crime and helping people with mental health conditions get the care they need.
A recent independent inquiry by Mind highlighted not only wide variation in crisis care services across the country, but also that in some areas, round-the-clock provisions are inadequate. This prompted the Department of Health to review the way the emergency services and organisations like social services and work together. MIND will continue to help local areas meet the commitments of the Concordat with a series of regional workshops. They will also work with the signatories to hold an annual summit to review progress.
It is vital that the principles of the Concordat are taken up in all localities in England. To support take-up, the Department of Health will work in partnership with the Home Office and Mind to promote and support local responses. We expect each locality to have agreed a Mental Health Crisis Declaration by December 2014.
Background information
The Concordat builds on recent announcements on mental health care:
Liaison and Diversion
In January, we announced that funding worth £25 million has been approved to support the roll out of Liaison and Diversion schemes, including ten trial schemes. These place mental health professionals in police custody and court settings to help identify mental health problems in offenders as early as possible. The majority of people who end up in prison have a mental health problem, a substance misuse problem or a learning disability and one in four has a severe mental health illness, such as depression or psychosis.
The trial schemes will help to make sure access to services most needed by offenders with mental health issues, substance abuse issues and learning disabilities are consistent for all ages across criminal justice settings.
Street Triage
We extended our Street Triage pilots in June to help make sure people with mental health problems get the right assessment, care and treatment they need as quickly as possible. This is a service where mental health clinicians — usually nurses – accompany police officers making emergency responses to people suffering from a mental health crisis. The nurses may also advise and support officers by telephone.
Mental Health Action plan
Deputy Prime Minister Nick Clegg launched the Mental Health Action Plan in January as part of a major conference which brought together mental health experts, charities and users of mental health services to talk about how mental health can be improved in this country.
The plan, called 'Closing the Gap: Priorities for Essential Change in Mental Health', sets out what more needs to be done. It sets out 25 of the most important changes that we want the NHS and social care to make in the next few years to improve the lives of people with mental health problems and help reduce health inequalities.
Additional quotes
Dr Martin McShane, NHS England's Director for Improving the Quality of Life for People with Long Term Conditions, said:
The mental health crisis care concordat is an important step forward to delivering better care and outcomes for people in the midst of a mental health crisis. It is important that we address mental health as we would physical health problems; effectively, safely and with a positive patient experience; with 'parity of esteem'.

The concordat recognises the need for coordinated action across multiple agencies, including police, health and social care. Everyone needs to contribute and work constructively and collaboratively. NHS England is committed to playing a full part and has launched a wide programme of work overseen by a Parity of Esteem programme board, chaired by Lord Victor Adebowale. This has the objective of ensuring equal priority is given to both mental and physical health services in all the work that NHS England does. The concordat will also inform and influence the Urgent and Emergency Care Review programme of work.

NHS England has also established strategic clinical networks across England to support delivering the changes needed and appointed a cohort of National Clinical Directors who are all committed to supporting parity of esteem for mental health.

The challenges set out in the concordat must and will be addressed and NHS England welcomes the agenda for change it sets out.
Professor Kevin Fenton, Director of Health and Wellbeing at Public Health England, said:
The Concordat is an important commitment to joint action to ensure that people in mental health crisis get the right support quickly and in the right setting. It makes clear the expectation that anyone suffering from a mental health crisis episode should be supported in a safe, health based setting. The staff supporting individuals experiencing this should have the relevant expertise to provide an effective response, and should direct individuals towards the services they need in the longer term. Vulnerable individuals risk repeatedly falling back into crisis situations unless clear and comprehensive care pathways are in place; the Concordat sets out how different agencies can work together to ensure such plans are in place.
Paul Farmer, Chief Executive of Mind, said:
This is the 999 plan for mental health. It should mean that anyone in mental health crisis gets urgent and appropriate help. It is founded on the fundamental principle that mental health is not the sole responsibility of the NHS – it is everyone's business and people in crisis will only ever get the support they need and deserve if all national and local departments and services work together properly.

Thousands of people access crisis care services every year, and countless more are turned away when they need help the most. Mind's crisis care campaign has highlighted that excellent services do exist but that they are far too patchy. Improvements to access and quality are long-overdue and it is crucial now that local services involved in the care of people in crisis pick up the baton and make this important agreement a reality in their own area.

I am delighted that Mind has been chosen as the organisation to take the concordat forward and help embed it in local communities. We have a difficult job to do, particularly in the face of continued cuts to NHS mental health and other local services, but we firmly believe that the concordat can and will succeed in every part of England, for the benefit of all of us who might find ourselves in crisis.
College of Policing Chief Executive Chief Constable Alex Marshall said:
Mental illness is a challenge for all of us. When a crisis occurs it is important that public services work together to provide the care and support that individuals require.

The Concordat is a strong statement of intent of how the police, mental health services, social work services and ambulance professionals will work together to make sure that people who need immediate mental health support at a time of crisis get the right services when they need them.

The College of Policing, as the professional body for policing, will ensure that all frontline police officers have access to updated training that will enable them to recognise the signs and symptoms of mental health crisis, and assess the risk of harm and special care and support that an individual may require to ensure their safety and that of police officers and the public.
Published 18 February 2014