News story
Basic Payment Scheme 2017 opens for applications
Farmers and agents can now apply for BPS 2017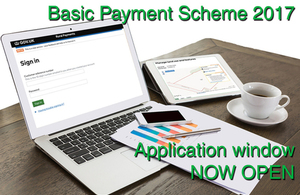 The 2017 Basic Payment Scheme (BPS) is now open for applications, the Rural Payments Agency (RPA) announced today (1 March 2017).
By applying online through the Rural Payments service, farmers and agents can now quickly check and update existing personal and business details, as well as view and transfer land and entitlements.
RPA Interim Chief Executive Paul Caldwell said:
Last year a record 80% of applications were received online and we hope to increase this figure for 2017.

Help and support in applying for BPS is available every step of the way through our online guidance or at the end of the phone.
Apply now
From today, farmers and agents can complete their declarations and confirm all information before submitting their completed application online.
Anyone who applied online for the Basic Payment Scheme in 2016 will be emailed all they need to apply online for BPS in 2017. Those who did not apply online in 2016 and did not use an agent will soon be sent a paper form and guidance on how to apply online.
Support available from the RPA
Further support is available from RPA this year through useful 'How to' videos. Farmers and agents can find step-by-step guides on transferring land, transferring entitlements and a general overview of how to apply online.
The application deadline for BPS 2017 is midnight on 15 May 2017.
Further guidance and scheme rules can be found on GOV.UK.
Published 1 March 2017