Press release
Baroness Warsi marks UN Human Rights Day
UK to continue to lead international efforts to promote and advance Human Rights in 2014.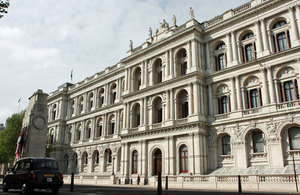 Human rights are at the heart of the UK's foreign policy, and this year the Government has achieved a great deal on human rights issues. This includes being the first country to publish its Action Plan on Business and Human Rights; providing global leadership on preventing sexual violence; launching a campaign to promote the Convention against Torture and its Optional Protocol; and providing the inspiration for the EU's guidelines on freedom of religion or belief and playing a central role in securing both their adoption and implementation.
Our attendance at CHOGM helped to shine a global spotlight on the human rights situation in Sri Lanka, and we are the second biggest bilateral donor to the UN Syria appeal, having contribution £500 million.
Today's UN human rights day is particularly significant for the UK, given our re-election to the UN Human Rights Council. The UK will use its membership of the Council to press for collective action on human rights abuses around the world.
To mark the 20th UN Human Rights Day, Baroness Warsi said:
I'm proud to lead on human rights at the Foreign Office and today's event is all the more poignant this year in view of the death of Nelson Mandela, undoubtedly one of the greatest moral and political leaders of our time. His vision for democratic freedom for universal human rights and for the rule of law underpins our work on human rights. I am therefore delighted to announce today that we will be giving an extra £500,000 to the Office of the High Commissioner of Human rights to aid its work on tackling human rights abuses.
Next year in addition to our work on the Human Rights Council we will host ground-breaking conferences on Freedom of Religion and Belief and preventing sexual violence in conflict. We will also continue to draw on the advice of human rights experts through our sub-groups on torture prevention, abolition of the death penalty, freedom of expression on the internet and the newly created sub-group on freedom of religion or belief to ensure human rights continues to be central to all our work.
Further information
Follow Foreign Office Minister Sayeeda Warsi on twitter: @SayeedaWarsi.
Follow the FCO's human rights work on twitter @FCOhumanrights.
Follow the Foreign Office on twitter.
Follow the Foreign Office on facebook & google+.
Published 10 December 2013