News story
Automatic gravimetric weighing instruments technical update
Proposed amendments to the automatic gravimetric weighing instruments technical working documents.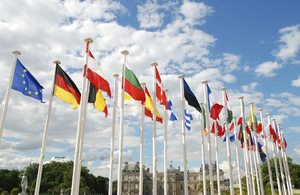 The National Measurement and Regulation Office (NMRO) is looking for any further views from the UK in relation to an amendment to International Organization of Legal Metrology (OIML) technical working documents for automatic weighing instruments (R61).
OIML Recommendation R 61 Automatic gravimetric filling Instruments 2004E, Parts 1 (Metrological and Technical Requirements), part 2 (Test methods) and part 3 (Report Format) are listed below for your review and comments. These drafts were prepared by NMRO as UK Secretariat of OIML TC9/SC2 Automatic weighing instruments.
Please review the OIML R 61 documents listed below and comment to help improve the drafts using the comment templates by 04 December 2015.
Main changes in the new R 61 draft
NMRO implements contributions from the members of the OIML working group. In particular, the following changes have been made in the new draft:
increase in the frequency range for the 'Radiated, radio frequency electromagnetic immunity' test to 3000 MHz (up from 2 GHz) in order to cover the widely applied 2.45 GHz frequency as for Bluetooth and microwave ovens - tests have been updated in accordance with OIML D 11: 2013 and the IEC 61000-4-3

the 'damp heat, cyclic (condensing)' test is a disturbance test (clause 10.3.1 in OIML R 61-2) concerning instruments installed in locations where condensation and or when the penetration of vapour is significant

the following new tests are introduced for checking the performance of battery powered instruments:

tests for "load dump" (to check the performance of the instrument under voltage spikes or battery failure), OIML R 61-2, clause 10.3.8
battery voltage variations during starting up a vehicle engine, OIML R 61-2, clause 10.3.9

the test for 'ripple on DC mains power' given in clause 10.3.8 of R 61-2 will check the performance of DC connected instrument under the introduction of a ripple on the DC mains voltage

annex E has been created using content from the WELMEC Guide 2.8 - Guide for conversion of Non-automatic weighing instrument (Indicator) test results for automatic weighing instruments purposes, providing examples of how to use OIML R 61
R 61 documents for review
R61-1-2 working document September 2015. (PDF, 683KB, 45 pages)
R61-1-1 comments clause September 2015. (PDF, 510KB, 24 pages)
R61-1 UK comments. (MS Word Document, 65.5KB)
R61-2-2 working document September 2015. (PDF, 906KB, 79 pages)
R61-2-1 comments clause September 2015. (PDF, 252KB, 12 pages)
R61-2 UK comments template 2WD. (MS Word Document, 66KB)
R61-3-2 working document September 2015. (PDF, 2.34MB, 118 pages)
R61-3 comments September 2015. (PDF, 333KB, 14 pages)
R61-3 comments template. (MS Word Document, 60.5KB)
UK-R6 revision letter August 2015. (PDF, 78.9KB, 2 pages)
NMRO contact point
For further information then please contact:
Morayo Awosola
International legal metrology
Tel: 020 8943 7287

For more general information about the work of NMRO on international legal metrology then read our international guidance page.
Notes: OIML is an intergovernmental treaty organisation which:
develops model regulations, standards and related documents for use by legal metrology authorities and industry
provides mutual recognition systems which reduce trade barriers and costs in a global market
represents the interests of the legal metrology community within international organizations and forums concerned with metrology, standardization, testing, certification and accreditation
promotes and facilitates the exchange of knowledge and competencies within the legal metrology community worldwide
cooperates with other metrology bodies to raise awareness of the contribution that a sound legal metrology infrastructure can make to a modern economy
Published 27 August 2015