Andrew Mitchell meets Chair of African Union Commission
International Development Secretary, Andrew Mitchell, meets Chairperson of the African Union Commission, discusses Libya, Ivory Coast, Liberia situations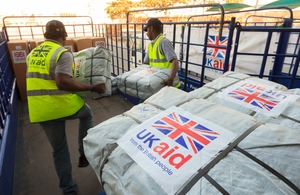 On Monday 04 April, the International Development Secretary, Andrew Mitchell, met the Chairperson of the African Union Commission, Jean Ping, in London.
Dr Ping expressed support for international efforts to protect civilians in Libya, and drew particular attention to the large number of African nationals still based there. He emphasised how important it was that any approach to resolving the situation in Libya must take into account the Libyan people's strong desire for democracy. He also expressed his gratitude for the humanitarian assistance the UK had provided and welcomed the UN-led stabilisation process, which he considered important not just for the Libyan people but also for regional stability.
The International Development Secretary also expressed the UK's deep concern over the worsening humanitarian situation in Cote D'Ivoire and the particular need for the protection of civilians. They discussed the role the UN Peace Keeping force might play in this and spoke about the UK's humanitarian aid package for Liberia and Ivory Coast that was announced last week.
They also spoke about the need for an end to intimidation and violence in Zimbabwe and the importance of a road map towards credible elections there.
And finally, they spoke about progress on Sudan, with the International Development Secretary welcoming the proposal that South Sudan will have full membership of the African Union as soon as possible after its succession.
Published 5 April 2011