'And in the end...' the Abbey Road zebra crossing is 'listed' by Tourism and Heritage Minister John Penrose
The zebra crossing near the Abbey Road Studios in London has been listed Grade II by John Penrose, Minister for Tourism and Heritage.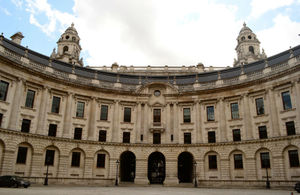 Following expert advice from English Heritage, the crossing, made famous all round the world after it appeared on the cover of The Beatles album of the same name, becomes the first of its kind ever to be listed, reflecting its cultural and historical importance.  The Abbey Road studios themselves were listed in February.
John Penrose said: "It is a fantastic testimony to the international fame of The Beatles that - more than 40 years on - this crossing continues to attract thousands of visitors each year, trying to mimic their iconic Abbey Road album cover.
Paul McCartney added: "It's been a great year for me and a great year for The Beatles and hearing that the Abbey Road crossing is to be preserved is the icing on the cake"
John Penrose continued: "This London zebra crossing is no castle or cathedral but, thanks to the Beatles and a ten minute photo-shoot one August morning in 1969, it has just as strong a claim as any to be seen as part of our heritage.  And as such it merits the extra protection that Grade II listing provides."
Roger Bowdler, Head of Designation at English Heritage said: "This is obviously an unusual case, and although a modest structure, the crossing has international renown and continues to possess huge cultural pull - the temptation to recreate that iconic 1969 album cover remains as strong as ever!  Together with the nearby Abbey Road studios, also listed at grade II on our advice, they remain a mecca for Beatles fans the world over."
Notes to Editors
A copy of the advice from English Heritage, including a detailed description and a full assessment of the crossing is available from English Heritage on 020 7973 3294.
Press Enquiries: 020 7211 2210
Out of hours telephone pager no: 07699 751153
Public Enquiries: 020 7211 6000
Published 22 December 2010