Ambitious plans to grow the economy and boost creative industries
Ambitious plans to grow the economy and boost UK creative industries by £50 billion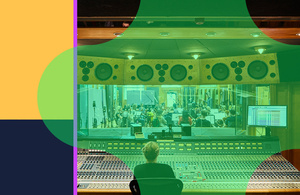 Government's plan to grow the creative industries by £50bn and support a million more jobs by 2030, with £77m of new funding for the sector announced
Advanced screen and performance technology research labs to be based in Yorkshire, Dundee, Belfast and Buckinghamshire
£50m to support more regional creative clusters, plus extra cash for music venues, video games studios, London Fashion Week and the next generation of British music talent
Plans to build a pipeline of skills and talent through new creative careers promise
New plans to maximise the potential of the UK creative industries and grow the economy have been set out by the government today.
One of the Prime Minister's priority sectors for economic growth, the creative industries are a global British success story growing at more than 1.5 times the rate of the wider economy over the past decade and contributing £108 billion in gross value added (GVA) annually.
Employment in these industries has grown at five times the rate of the rest of the economy since 2011. Speaking at the London Tech Week conference on Monday, Prime Minister Rishi Sunak said that Britain's creative industries were "going like gangbusters" and represent a "unique strength" for the country.
Developed with industry via the Creative Industries Council, the Creative Industries Sector Vision published today sets out shared ambitions to build on that success and maximise the growth of the creative industries by £50 billion by 2030, creating one million extra jobs and delivering a creative careers promise that builds a pipeline of future talent.
Framed around the key principles for driving growth - facilitating innovation and investment, alongside building a skilled workforce - the Sector Vision is backed by £77 million in new government investment for the sector.
The Prime Minister, Rishi Sunak, said:
The creative industries are a true British success story, from global music stars like Adele and Ed Sheeran to world-class cultural institutions like the National Theatre.

These industries have a special place in our national life and make a unique contribution to how we feel about ourselves as a country.

We want to build on this incredible success to drive growth in our economy - one of my key priorities – and to ensure that UK creative industries continue to lead the world long into the future.

Backed up with significant new funding, this ambitious plan will help grow the sector by an extra £50 billion while creating one million extra jobs by 2030.
Culture Secretary Lucy Frazer said:
The imagination and ingenuity of British designers, producers, content creators, writers and artists are spearheading growth right across our economy.

The government is backing our creatives to maximise the potential of the creative industries. This Sector Vision is about driving innovation, attracting investment and building on the clusters of creativity across the country. And from first days at school to last days of work, we will nurture the skills needed to build a larger creative workforce to harness the talent needed for continued success.

Working with the industry this vision is helping the UK creative sectors go from strength to strength - providing jobs and opportunities, creating world leading content and supporting economic growth across the country.
Jeremy Hunt, Chancellor of the Exchequer, said:
Our Creative Industry isn't just about the glitz and glam of the red carpet in Leicester Square. It brings in £108 billion a year to help fund our public services, supports over 2 million jobs, and is world renowned.

That's why we're backing it as an industry to drive our economic growth, keeping the UK at the top of the world's cultural charts with a multi-million pound boost.
This includes £50 million to grow clusters of creative businesses in locations all over the country, and more funding to help start-ups scale-up and to turn creative entrepreneurs into CEOs.
New investment will help the next Adele, Ed Sheeran or Sam Smith break into overseas markets, alongside financial support for new video games studios and hundreds of grassroots music venues. The government will continue to offer competitive creative industries tax reliefs to incentivise production of film, TV and video games in the UK.
This sector vision builds on more than £230 million in government spending on the creative industries since 2021, which includes £75.6 million to build the largest virtual production research and development network in Europe to put the UK at the forefront of advancements in visual effects, motion-capture technology, and AI for the screen industries and live performance. Today the government has announced regional research labs will be based in Yorkshire, Dundee and Belfast with a national lab in Buckinghamshire. The programme will be supported with an additional £63 million investment from industry.
Alongside investment, the Sector Vision commits the government to a new creative careers promise - a pledge backed by a comprehensive package of actions to open up more opportunities, particularly for young people, to pursue careers in the creative industries.
Sir Peter Bazalgette, industry co-Chair of the Creative Industries Council said:
The Creative Industries are coming of age with this ambitious policy framework for economic growth and cultural value. Our Sector Vision, developed jointly with government, champions R&D-led innovation and future skills, drawing on the talent of all our communities. It also promotes positive impact on health & wellbeing, the environment & Britain's global reach. Helped by the government's new spending commitments, the work starts now to deliver on this growth agenda.
Innovation, investment and exports
Four new state-of-the-art research and development facilities will be set up to drive the next generation of screen technology and on-set virtual production, with £63 million of new industry investment announced today on top of the government's £75.6 million investment. UKRI's Convergent Screen Technologies and performance in Realtime (CoSTAR) programme is expected to create more than 820 new jobs across the UK.

The government will invest at least £50 million in the next wave of UKRI's Creative Industries Clusters programme. This funding will be used to identify and support at least six new clusters specialising in creative subsectors, helping entrepreneurs and businesses in these areas innovate with new technologies, secure investment, and access global markets. It comes as more than 300 creative companies across the UK receive a share of £13 million in government grants today to help them innovate and reach their high growth potential.

DCMS will increase the budget of the Create Growth Programme by £10.9 million, bringing it to a total of £28.4 million until 2025. The increased funding will enable it to double the number of regions it covers to twelve and support 2,000 businesses to commercialise their ideas and access resources, knowledge and private investment to scale up - turning today's creative entrepreneurs into tomorrow's CEOs.

Funding for the Music Exports Growth Scheme, which provides grants to support touring and help emerging musicians break into new global markets, will be expanded to £3.2 million over the next two years. Past recipients include BRIT award winners Wolf Alice, Dave and Catfish and the Bottlemen, as well as Mercury Prize Winners Young Fathers and BRIT Rising Star nominee beabadoobee.

DCMS will expand Arts Council England's highly successful Supporting Grassroots Music Venues Fund, providing an additional £5 million over two years to support around 400 grassroots music venues projects, as the lifeblood of our world-leading music sector and cornerstones of communities.

The UK Games Fund will receive a £5 million uplift bringing its total funding to £13.4 million over the next two years. Since 2015 the fund has been developing talent and awarding grants to young video game developers and early-stage studios to turn their drawing board ideas into working prototype games and showcase them to investors. The additional funding will mean it can help maturer start-ups grow their businesses and attract even more private investment into our booming video games industry.

Acknowledging UK excellence in holding international showcase events which enhance our soft power and boost creative exports, ministers have agreed new funding of £2 million will go to London Fashion Week for 2023-25 and £1.7 million for the BFI to deliver the London Film Festival 2024.
Skills and education
The Sector Vision's creative careers promise commits the government to working closely with the industry to give young people from all backgrounds more opportunities to participate in creative activities from an early age, in order to build a highly-skilled, productive and inclusive creative workforce. To support these aims, DCMS and the Department for Education will:
Publish the Cultural Education Plan later this year, deliver last year's National Plan for Music Education which includes £25 million for musical instruments, and explore opportunities for enrichment activities as part of the government's wraparound childcare provision.

Work with industry to ensure post-16 technical skills routes work effectively for the creative industries. This will include supporting the rollout of T-Levels in creative subjects and increasing provision and take-up of high quality creative apprenticeships.

Support lifelong learning in the creative industries and enable the sector to retain and retrain the existing workforce by working with local and regional partners to maximise the opportunities of Skills Bootcamps and to develop Local Skills Improvement Plans across England.
Business and Trade Secretary Kemi Badenoch said:
The UK has a global reputation for creating, writing and producing amazing music and the Creative Industries generate over £50 billion in exports for the UK economy and are a key driver for UK growth. The Department for Business and Trade is committed to championing our world class artists and businesses around the world by doubling creative trade missions and expanding support for exporters in the creative industries.
UK Research and Innovation Creative Industries Sector Champion, Professor Christopher Smith, said:
The creative industries are a UK success story, key to the UK's prosperity, wellbeing and resilience. From design to screen, fashion and textiles to heritage, they are generating high-quality employment and innovation.

UKRI's creative industries investments, including CoSTAR, Creative Catalyst and the Creative Industry Clusters Programme, will catalyse the research and innovation that are crucial for this fast-growing and important sector.

The creative industries are now firmly embedded in the research and development ecosystem, ensuring that the UK remains a genuine world leader in the industries of the future.
Caroline Norbury OBE, Chief Executive, Creative UK & Creative Industries Council member
The UK Government's Sector Vision recognises and cements the Creative Industries' immense capacity for growth, and rightly prioritises much-needed investment in the sector. Creative UK, our members, and colleagues across the Creative Industries, stand ready to further unleash the power of creativity, so that together we can drive inclusive growth across all parts of the UK.
BRIT Awards Rising Star nominee beabadoobee said:
The funding from the Music Export Growth Scheme came at a great point in my career and gave me a helping hand. I'm happy to know the scheme is being extended and more money will be coming into music to help even more new artists breakthrough. This will all help in building artists fanbases in the UK and around the world.
ENDS
Additional Announcement Information
Convergent Screen Technologies and performance in Realtime (CoSTAR)
The national CoSTAR lab and three regional R&D labs will ensure the UK has the skills and infrastructure to stay on the cutting-edge of new virtual production techniques in film, TV and live events which involve using computer-generated imagery (CGI), augmented reality and motion capture to create 'virtual sets'. Instead of adding visual effects and CGI in post-production, virtual production allows filmmakers and theatre directors to create large-scale digitally-generated environments using LED panels that performers can interact with in real-time, as a quicker and less expensive alternative to green screens. The technology has been used in the ABBA Voyage live concert and the Batman and Minecraft immersive experiences in the UK, as well on Disney's hit show The Mandalorian.

Today's announcement of the preferred bidders for CoSTAR is subject to internal government approvals processes, and where relevant, commercial discussions with external partners. Partner organisations such as BT, the National Film and Television School, Vodafone, Studio Ulster and Screen Yorkshire have today announced they will invest at least £63.3 million in CoSTAR. The programme will also include an Insight and Foresight Unit led by Goldsmiths and the BFI. More information on the CoStar preferred bidders:
National lab
Led by Royal Holloway, University of London. Core partners: Pinewood Studios, disguise, BT, Surrey County Council, Buckinghamshire Local Enterprise Partnership,  University of Surrey, Abertay University, National Film and TV School (NFTS).
Regional labs
West Yorkshire - Led by York University. Located at Production Park Studios, West Yorkshire. Core partners: Production Park, Screen Yorkshire, Vodafone, Wakefield Council, North Yorkshire LEP.
Dundee - Led by Abertay University. Located at Waters Edge Studios. Core partners: Codebase, Edinburgh University, Interface, Scottish Enterprise, 4J Studios
Belfast - Led by Ulster University. Located at Studio Ulster. Core partners: BBC Northern Ireland, Belfast Harbour, Humain Ltd, Northern Ireland Screen, Studio Ulster
Insight and Foresight Unit
Consortium led by Goldsmiths, University of London. Core partners: BFI, University of Edinburgh, Loughborough University, Julies Bicycle, Olsberg SPI, Arup Group.
Creative Industries Clusters programme
The creative industries tend to concentrate in geographic areas, forming 'clusters' - groups of creative businesses which grow quicker together by collaborating and competing with each other. Since 2018, the Arts and Humanities Research Council's Creative Industries Clusters programme has supported nine creative clusters in the UK.

Collectively, these research and innovation clusters have generated £252 million of co-investment, engaged over 2,500 businesses and 60 research organisations, trained over 3,500 industry professionals and academics, supported 900 business R&D projects and created or safeguarded more than 4,000 jobs.
Research commissioned by DCMS has found there are at least 55 creative clusters across the UK, and an open competition to be launched later this year will be held to identify at least six new clusters that will be supported by the £50 million in funding.
Create Growth Programme
The six regions in the Create Growth Programme are: Greater Manchester, East Anglia, North East England, South West, South East and East Midlands. The next six regions to be supported will be selected through an open competition expected to be launched in late autumn.
Today Innovate UK is announcing that 108 creative industry businesses across the six current regions will share in £3 million of funding from the programme, to help them access business support, finance and investor capacity-building activities. The businesses in sectors such as gaming, music and marketing are based in Greater Manchester, the West of England with Cornwall and the Isles of Scilly, Norfolk, Suffolk and Cambridgeshire, Leicestershire, Derbyshire and Lincolnshire, Kent, Essex, East and West Sussex, the North East of England.
Creative Catalyst
Over 200 creative companies across the UK have received a share of £10 million of innovation funding today from the first round of Innovate UK's £30 million Creative Catalyst, to help them commercialise their creative ideas. As part of the programme the successful companies also will receive business growth support, join a peer network to encourage collaboration and have access to international missions to help expand their global ambitions. The Creative Catalyst also provides additional co-funding opportunities with the investor community to support the high-growth potential companies and encourage earlier stage investment from the private sector.
The majority of today's funding is going to companies outside of the Greater Southeast, focusing on 14 identified creative clusters including: Bath, Belfast, Birmingham, Bristol, Cardiff, Edinburgh, Exeter, Glasgow, Leeds, Liverpool, Manchester, Newcastle, Nottingham and Sheffield.  Every corner of the UK had successful projects from the north of Aberdeenshire to the tip of Cornwall.
The projects covers the whole of the UK creative industries from AI, to supporting architects' creative processes, to virtual production in live performance, and from metaverse integration for the music industry to recycling innovations in the children's publishing sector.
Innovate UK has also today announced a new partnership between the Creative Catalyst Programme and Creative UK. This new partnership will engage with key senior industry stakeholders and create exciting funding opportunities for small and micro businesses to address important industry challenges.
Finally, Innovate UK is announcing that the first Creative Catalyst sector-specific competition will focus on MusicTech. The £1m competition will launch later in the year, with a scope which has been co-designed by industry.
UK Games Fund
The UK Games Fund is run by non-profit UK Games Talent and Finance Community Interest Company (UKGTF). UKGF launched in 2015 and is based in Dundee. The fund provides grants for prototype funding (up to £30k) and supports graduate talent development through its DunDev and Tranzfuser programmes.
£5 million in additional investment will provide UK games studios with larger grants for content funding, supporting development of intellectual property that will allow companies to attract investment and reach their next stage of growth.
Royal Challenge
In partnership with the Royal Anniversary Trust, the government will launch the Coronation Challenge. It will bring together the brightest minds in academia and industry to provide recommendations on how the UK can best seize the opportunities that will come from leveraging nascent technologies, from AI, to VR, and AR, within the creative industries.
Music Export Growth Scheme (MEGS):
Further quotes from recording artists who have previously benefitted from the Music Exports Growth Scheme:
Femi Koleoso from Ezra Collective said:
Touring is one of the most important ways we've been able to connect with our fans - it's such a special moment to see music that you've written and recorded connect with people in real life. We're so thankful to the smaller, grass roots venues across the country and further afield as part of our worldwide touring that offer a sanctuary and a first chance for so many artists. They are vital to the infastructure of touring, and for artists that are really looking to build a career in music. Playing a Hammersmith Apollo show has an extra special meaning when you've played a show at Fox and Firkin as part of the journey. And playing St Davids Hall means the most when you kicked off your live journey in Cardiff at the Gwidhw. There's no Glastonbury festival without being given a chance at Thekla.
Tom Speight said:
The Creative Sector Vision and its investment into music is to be welcomed.  As an artist who has directly benefitted from Music Export Growth Scheme funding in the past - helping me to land a No.1 single in Brazil - and who is looking to grow my fan base across the UK from playing grass route venues to performing to thousands of people, I know only too well just how much of a difference any kind of funding boost will make. I hope this acts as a base for more support in future.
Yazmin Lacy said:
Being able to tour my debut album was an incredibly special opportunity - and without the support of MEGS current cost and visa pressures would have literally meant this to be impossible. It would have meant an opportunity to realise the true potential of my music and lay solid foundations to grow and move towards considering myself a career artist would have had to have been abandoned. I am so grateful to be able to build further on the amazing foundations MEG funding enabled me, specifically in North America - already planning a return headline tour based on the reception to my first. It's quite honestly invaluable and there's no other way I would have been able to take that leap otherwise.
Notes to Editors
Under the government's definition, the 'creative industries' consist of the following subsectors: Advertising; Architecture; Crafts; Design and designer fashion; Film, TV, radio and photography; Museums, galleries and libraries; Music, performing and visual arts; Publishing; and software and computer services (including video games).
The Chancellor has identified five key industries that will drive the economic growth of the UK, meeting a key priority of the Prime Minister. The Creative Sector is one of those industries which is being supported with targeted funding, with other sectors also benefiting from regulatory reform, ensuring the UK's most successful sectors continue to be world leading.
Alongside this sector-specific approach the Chancellor unveiled plans to tackle two key barriers holding back UK growth with reforms that will bring 100,000 more people into the jobs market and an effective cut to corporation tax of £27 billion to foster business investment.
This focus on growth matters because it means more jobs and better opportunity spread across the country, so it is welcome news that both the IMF and the OECD have upgraded the UK's growth prospects in recent weeks.
Creative Industries Council
Industry and government will work together to deliver on the Sector Vision's ambitions, coordinated through the Creative Industries Council. The Creative Industries Council (CIC) is a forum which brings together industry leaders from all parts of the creative industries with government ministers, to address challenges and opportunities facing the UK's creative industries. The CIC is co-chaired by Sir Peter Bazalgette and the Secretaries of State for DCMS and the Department for Business and Trade. Its membership was refreshed in January 2023, to ensure it is well placed to convene, motivate and drive delivery of the shared ambitions set out in the Sector Vision.
Creative sector tax reliefs
The creative industry tax reliefs support and incentivise culturally British production. In 2021-22 the audio visual and cultural reliefs provided £1.05 billion of support to 5445 projects.
In 2022, the UK saw record film and high-end TV production expenditure of £6.27 billion. Inward investment, attracted by generous tax reliefs, accounted for 88% of the total spend on films (£1.74 bn).
The Chancellor Jeremy Hunt announced at Spring Budget 2023 that film and TV tax reliefs will be reformed to a single refundable expenditure credit - the 'Audio-Visual Expenditure Credit', which will be calculated directly from qualifying expenditure with a rate of 34% for film and high-end TV productions and 39% for children's TV and animation TV. Video games tax relief will be reformed to the video games expenditure credit, which will have a credit rate of 34%.
Reforms to the audio-visual tax reliefs will ensure the tax system continues to drive growth in our world-leading creative industries and delivers on the government's commitment to building an enterprise economy. The government has also extended reliefs to theatres, orchestras, museums and galleries for two years to boost investment following the pandemic
Additional Quotes
Stephen Page, Chair of Faber & Faber said:
The golden thread of education and skills pathways that support careers for all in the creative industries is vital to their continued growth and outstanding success. I welcome the Sector Vision's commitment to building the future workforce our industry needs, with opportunities for people from all backgrounds, and look forward to continued close working between Government and Industry towards realising that goal.
Sophie Jones, Chief Strategy Officer and Interim CEO of the British Phonographic Institute said:
At a time when UK artists face greater competition than ever before in a now truly global music market, the Music Export Growth Scheme is an invaluable resource for those independent artists and music companies looking to export their music around the world. The scheme is already well over-subscribed, and with this additional investment, the scheme will be able to help even more deserving artists achieve global success. We are delighted that the Government has recognised the excellent return on investment that MEGS presents and has moved to support independent artists and music in this way.
Daniel Wood, Co-CEO of video games trade body Ukie said:
The games industry welcomes the Secretary of State's ambition to boost the creatives industries. Today's vision cements what we have always said that the UK games industry is an engine of economic growth - creating high quality jobs across the whole of the UK, contributing over £5 billion in GVA with 80 per cent outside London and Southeast.

We are also pleased to see that the government continues to recognise the importance of the country's games industry and is committing an additional £5 million to the UK Games Fund. Today's announcement of additional funding will support even more UK games businesses to scale up by accessing the finance they need to create the next generation of games, whilst also developing the innovative and original content a global audience of billions love.
Francesca Hegyi, Chief Executive of Edinburgh International Festival said:
I am pleased to welcome the launch of the joint Government and Creative Industry Council's Sector Vision today and it fills me with optimism about the future of the creative industries in the UK. The vision sets a path for enhanced collaboration as well as a renewed focus on inclusivity and innovation. With the Council now embracing a truly UK-wide perspective, the potential for our industry to lead the way has never been stronger.
Jamie Njoku-Goodwin, Chief Executive of UK Music said:
This new investment is hugely welcome and will deliver a significant boost to the Music Export Growth Scheme and to grassroots music venues across the country.

In an increasingly competitive global environment, it's vital we give our world-leading creative industries the support they need to continue creating high quality jobs and contributing billions to the economy.

We look forward to continuing to work with the Government to make the UK the best place to create, innovate, produce and consume music.
Welsh Government Deputy Minister for Arts, Sport and Tourism, Dawn Bowden, said:
We welcome the new sector vision for the creative industries and the acknowledgement of the devolved nature of the majority of the activity included within it. It is positive that Wales now has a voice around the Creative Industries Council table and we look forward to working in partnership to help grow our vibrant creative industries in Wales.
Visit the DCMS Shorthand for more quotes from leaders across the creative industries supporting the new vision
Published 13 June 2023