Ambitious new alcohol strategy launched
Radical plans to turn the tide against irresponsible drinking and empower communities to reclaim their high streets were unveiled today by home secretary Theresa May.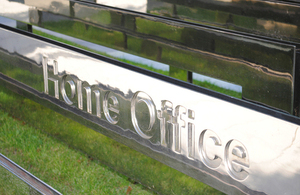 The link between drink and social harm is clear with almost 1million violent crimes and 1.2 million hospital admissions involving alcohol in 2010/11 alone. This has left the police and hospital staff fighting a constant battle against the effects of drunkenness, with the taxpayer left picking up a bill of around £21billion a year.
The government's alcohol strategy sets out proposals to crackdown on our 'binge drinking' culture, cut the booze-fuelled violence and disorder that blights too many of our communities, and slash the number of people drinking to harmful levels.
The home secretary Theresa May said:
'We all know there is a significant minority in this country who drink dangerously and who cause disproportionate harm. Drunken brawls and disorder have made many town centres no-go areas for law-abiding citizens.
'The effects of such dangerous drinking - on crime; on communities; on children and on families - are clear. So we need to deal with the dangerous drinkers, crack down on the irresponsible businesses and stem the tide of cheap alcohol.
'That means providing punishment and treatment for those who have shown they can't drink sensibly.  It means tightening our licensing laws and cracking down on those who sell alcohol to children or drunks. And it means, for the first time, putting a sensible price on those drinks that cause harm.
'Most drinks will not be affected, but cheap vodka, super strength cider and lagers will go up in price. The dangerous drinks will become more expensive; the price of a normal pint in the local pub will not increase by a single penny.'
Action set out in the Strategy aims to stem the flow of cheap alcohol, ensuring for the first time alcohol is sold at a sensible and appropriate price by:
introducing a minimum unit price for alcohol;
consulting on a ban on multi-buy price promotions in shops.
Put local people back at the heart of licensing decisions, and crack down on problem premises and alcohol-related offending including:
stronger powers for local areas to control the density of licensed premises including making the impact on health a consideration for this;
piloting innovative sobriety schemes to challenge alcohol-related offending;
implementing a levy for late-night licences to contribute to the cost of extra policing, and allow communities to restrict the sale of alcohol between midnight and 6am;
doubling the fine to £20,000 for those found persistently selling alcohol to children.
Build on the responsibility deal with greater industry action to prevent alcohol misuse by:
giving people a wider choice of lower strength drinks in both shops and pubs, to take one billion units out of the market by 2015;
providing clearer information on unit and calorie content;
more responsible product placement and marketing.
Support individuals to change by helping them make informed choices about healthier and responsible drinking including:
asking the chief medical officer to conduct a review of the current alcohol guidelines for adults;
through the provision of £448 million to turn around the lives of 120,000 troubled families;
providing effective treatment and recovery to help those who need routes out of dependency.
Health secretary Andrew Lansley said:
'Alcohol misuse is one of the biggest health problems we face as a nation. Last year there were 1.2 million admissions to hospital associated with alcohol. New estimates show that it costs the NHS £3.5 billion every year and equal to £120 for every taxpayer.
'Urgent and firm action is needed to tackle this problem. Minimum unit pricing will send a signal that we are determined to tackle the scandal of alcohol misuse and banning bulk-buy discounts will change habits, save lives and cut hospital admissions. Through our responsibility deal we will cut a billion units from the nation's alcohol intake and provide the information and motivation to help people drink responsibly. And through a new alcohol check in the NHS healthcheck, which is available to three million people each year, we'll be able to offer direct advice and support for those with alcohol-related problems.
'These measures, along with others, will tackle the costly and life-threatening harms that alcohol causes and ease the burden on our national health service.'
Chief constable Jon Stoddart, association of chief police officers lead on alcohol, said:
'Week in week out in town centres across the country, the police have to deal with the consequences of cheap alcohol and irresponsible drinking. The growing trend for 'pre-loading' means that young people are often drunk before they even enter a bar. By the time they hit the streets at closing time they are more likely to get involved in crime and disorder or injure themselves or others.
'I welcome any new approach that will help reduce the availability of cheap alcohol, give communities a greater say over licensing in their area and reduce pressure on the police.'
Notes to editors
1. The government's alcohol strategy can be found at:http://www.homeoffice.gov.uk/publications/alcohol-drugs/alcohol/alcohol-strategy
2. From April 2012 the home office will launch pilots testing compulsory sobriety measures as part of existing conditional caution powers, for people convicted of low level, high-volume crime such as being drunk and disorderly, criminal damage and public disorder. The trials will last for 12 months and will start in the following five areas:
Hull;
St. Helens;
Plymouth;
Cardiff;
Westminster.
3. Later this year the government intends to pilot compulsory sobriety measures for community orders, which will aim to tackle more serious offences such as common assault and GBH without intent. This will involve the use of electronic alcohol monitoring equipment.
4. The responsibility deal alcohol pledge aims to cut a billion units from the nation's alcohol intake by 2015. 34 leading brands and retailers have signed up to provide a greater choice of lower strength alcohol products and smaller measures by 2015.
5. New measures in the police, reform and social responsibility act 2011 that will come into effect from 25 April 2012 include:
making  it easier for communities to have their say by allowing everyone the option to comment on licensing applications - not just those living close to premises;
making it easier for communities to access information and have their say by requiring licensing authorities to publish on-line information about new licensing applications and to vary existing ones;
giving licensing authorities greater powers and flexibility to crack down on irresponsible premises and tackle alcohol-related crime and disorder by making them 'responsible authorities' under the licensing act on a par with the police and lowering the evidence threshold for licensing decisions, making it easier,for example, to impose conditions on premises licences;
doubling the fine for persistent underage sales to £20,000, and extending orders that see premises closed on a voluntary basis to a maximum of two weeks - which can lead to licences revoked;
ensuring health bodies have a greater say in licensing decisions by making them 'responsible authorities' under the licensing act so that they get automatically notified of new applications and can object or make representations on the basis of the statutory licensing objectives, including crime and disorder and public safety and protecting children from harm;
tightening the rules for temporary event licences by allowing for the first time objections from environmental health. And allowing the police and environmental health to be able to make objections on all licensing objectives - not just prevention of crime and disorder;
reducing burdens and bureaucracy by allowing councils to suspend licences due to non-payment of fees, saving them the time and cost of pursuing non-payment through the courts;
later in the year, we will introduce new reforms allowing local authorities to charge a levy for late-night licences to contribute to the cost of extra policing, and allow communities to restrict the sale of alcohol between midnight and 6am. A public consultation on these measures to tackle problems of late night drinking is currently still open. It closes on 10 April and is available via the home office website. We will also give licensing authorities new powers to set licensing fees locally.
6. For further information please contact the home office press office on 020 7035 3535. 
Published 23 March 2012