Press release
All schools to list childcare options
Schools to publish childcare provision alongside school performance tables making it easier for parents to know what is available.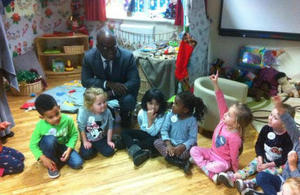 The information will include what childcare is on offer in primary and secondary schools: ranging from full-time nurseries to holiday and after-school provision.
This important step-change will support parents to make the best childcare decisions for their families and help them to access their 15 hours of free childcare per week for 3- and 4-year-olds with one simple click.
Childcare Minister Sam Gyimah said:
Getting the right childcare is one of the most important decisions any parent makes - we want to make it easier for families to find and access as many high-quality options as simply as possible.

A lot of schools are offering this valuable support, but parents shouldn't have to click through 7 pages of a website to find out about it.

I want to save parents from that headache and help to put them in touch with the right provider for their family.
All 3- and 4-year-olds now have free childcare of 15 hours per week in settings that include schools. Forty per cent of 2-year-olds from less well-off backgrounds can also access this free funding.
As well as improving choice, the quality of childcare available will also be boosted by an announcement today (23 March 2015) that Teach First is expanding the number of places on their early years programme.
This expansion of Teach First reflects strong recruitment for 2015 to 2016 and clear demand for places beyond that originally planned.
Notes to editors
Information on schools' childcare will be gathered by the department and their performance tables will be updated with this information from next year.
The provision of childcare will not be included in the assessment of a school's performance.
We are supporting Teach First to increase the number of Early Years trainees it recruits for 2015 to 2016 from 38 to 82.
The government is also working with digital developers to create a new website or app to provide a one-stop-shop for parents in finding childcare arrangements.
Recent Ipsos MORI research showed parents are unsure where to find information and often unaware of the full childcare provision in their area.
DfE enquiries
Central newsdesk 020 7783 8300
General enquiries 0370 000 2288
Published 23 March 2015