Press release
Celeb Mum of the Year backs childcare app challenge
Michelle Heaton attended summit bringing tech developers and early years providers together.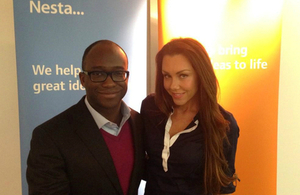 The Department for Education has thrown open a challenge to the digital sector to find a solution to recent research that showed parents struggle to see what childcare options are available to them.
A summit organised today (5 March 2015) brought the tech sector together with early years providers and stakeholders who know what parents want.
Many attendees will next month bid for a pot of £200,000 in government funds to develop childcare apps or websites which will help parents find high-quality, accessible childcare close to home.
Also in attendance was 2014 Celebrity Mum of the Year Michelle Heaton, who has herself experienced the complexity of searching for the right childcare options for her 2 children.
The Department for Education launched the competition in response to Ipsos Mori research, which showed that parents find it difficult to navigate through numerous sources of information about childcare provision available to them.
The report concluded that parents should have access to the information they need to make informed choices about childcare - and it is especially important for parents returning to work to understand the financial support and range of options available to them.
Childcare Minister Sam Gyimah opened proceedings with a speech about the competition. The event also saw Q&A sessions and more detailed information about the applications process.
Sam Gyimah said:
Getting the right childcare is one of the most important decisions parents make.

I'm committed to making it easier for families to access as many high-quality and flexible options as possible. Great options are out there, but nothing offers easy comparisons of reviews, costs and types of childcare available.

When the perfect digital solution is found, parents will wonder how on earth they coped without it.
Michelle Heaton said:
I'm a busy mum of 2, juggling a career and have a husband that works full time. We don't have family close by to help so childcare I can rely on is vital.

Having a simple app that I can access on my phone would be really helpful to me and many other busy parents.

We all need help sometimes but we need to know that our child is well cared for if we can't be there 24/7.

It would be great to have all the information we need in one place, easy to access - especially if you've got 2 kids running around.
The report called for an improvement to information that's available to parents, including proposing a central site to bring together key information in an easily accessible digital format clearly signposting parents to the information they need.
The competition is being run with Innovate UK through the Small Business Research Initiative (SBRI) - a scheme which enables public sector bodies to connect with innovative ideas and technology businesses.
Technology has changed the way we shop, travel and get around. Similarly when the perfect digital solution for childcare is discovered, people will wonder how on earth they coped without it.
Notes to editors
In attendance were over 100 representatives from groups including tech developers, early years providers and local authorities.
The full brief to online developers is available to read.
The Ipsos MORI report is available to read.
Innovate UK is the new name for the Technology Strategy Board - they're the UK's innovation agency, accelerating economic growth. Innovate UK know that taking a new idea to market is a challenge. They fund, support and connect innovative businesses through a unique mix of people and programmes to accelerate sustainable economic growth.
The SBRI programme uses the power of government procurement to drive innovation. It provides opportunities for innovative companies to engage with the public sector to solve specific problems. Competitions for new technologies and ideas are run on specific topics and aim to engage a broad range of organisations. SBRI enables the public sector to engage with industry during the early stages of development, supporting projects through the stages of feasibility and prototyping.
DfE enquiries
Central newsdesk 020 7783 8300
General enquiries 0370 000 2288
Published 5 March 2015