Press release
Affordable Homes Programme to transform the way we build
Government investment in affordable homes will sustain 165,000 jobs and promote new technology.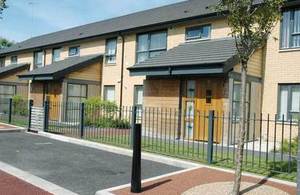 The government's Affordable Homes Programme will change the way homes are built in Britain, Chief Secretary to the Treasury Danny Alexander and Housing Minister Brandon Lewis said today (22 July 2014).
The ministers announced the successful bids for almost 62,000 homes under the first phase of the £23 billion programme, which will deliver 165,000 new affordable homes over 3 years from 2015.
New technology and jobs
A fifth of the homes will be built with cutting edge "advanced housing manufacture", where parts are manufactured in factories before being assembled on site. This technique is widely used on the continent, but only plays a limited role in British housebuilding.
Mr Lewis said the focus on new technology would provide high-quality homes, and help the sector achieve the fastest rate of affordable housebuilding for 20 years. Every home built under the scheme will support a person's job, which means 165,000 job opportunities over 3 years, many for young people.
Savings for taxpayers
A total of 191 providers have been earmarked for funding. The new homes will be delivered across England, with almost a third in London.
The investment from government will be combined with private finance to deliver the £23 billion programme. By putting in more private sector funding than previous programmes, the scheme will achieve a better deal for taxpayers.
Mr Lewis said housebuilding was now at the highest level since 2007, and construction companies were hiring new workers at the fastest rate for 17 years, but it was vital that this momentum was maintained to build the homes families need.
Chief Secretary to the Treasury Danny Alexander said:
Building more affordable homes is an important part of ensuring every family has the opportunity to live in a decent home.

By investing billions into new housing and cutting out burdensome planning regulations, we are building more affordable homes per year than at any time in 20 years and are also supporting job creation across the country.
Housing Minister Brandon Lewis said:
Housebuilding is an essential part of this government's long-term economic plan. That's why we have designed an ambitious new scheme to build affordable homes at the fastest rate for 20 years, which will support 165,000 jobs in construction and sustain thousands of small businesses.

Our programme will use the latest construction technology to deliver high-quality homes, helping to transform the way we build in Britain, and providing homes where future generations will want to live and raise families of their own.
Homes and Communities Agency Chief Executive Andy Rose said:
We have set in place a solid delivery programme that will ensure a smooth transition from our current Affordable Homes Programme, and that delivery can start promptly.

The allocations announced today are closely aligned with locally identified priorities and offer value for money and increased certainty of delivery, with over 75% of the homes we are funding on firm schemes.
New jobs and more trade for small businesses
The building programme will sustain thousands of small businesses that supply building materials.
Almost a million independent firms are involved in the construction industry, accounting for 20% of all small and medium-sized companies, and businesses that supply building products have an annual turnover of more than £50 billion, which contributes 4.5% to the UK's Gross Domestic Product.
Building homes that families need
Housing associations, councils and developers that have applied for funding have been required to demonstrate they are delivering new homes that are in short supply in their local area. Of the successful bids so far, 77% have been for 1 and 2 bedroom homes, so that smaller households can move to more suitably-sized accommodation.
The Affordable Homes Programme includes affordable rented homes and affordable home ownership schemes and is being managed by the Homes and Communities Agency nationally and in London managed and allocated by Greater London Authority and the Mayor.
See details of the successful bids.
Office address and general enquiries
2 Marsham Street
London
SW1P 4DF
Contact form http://forms.communiti...
General enquiries: please use this number if you are a member of the public 030 3444 0000
Published 22 July 2014