News story
Action to clamp down on dangerous dogs
Consultation launched on longer jail terms for owners of dogs that attack people or assistance dogs, such as guide dogs.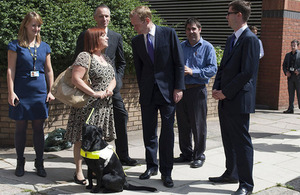 Read up-to-date information on dangerous dogs.
(This news story was updated on 6 August 2013 and has not been updated since)
Irresponsible owners whose dogs attack people or assistance dogs could face longer jail terms as part of a consultation launched today (6 August).
Sixteen people have been fatally attacked since 2005, but the owners of dangerously out of control dogs can only be sent to jail for a maximum of two years.
Longer sentences
The public are now being given the chance to have their say about whether there should be a longer maximum sentence available when an individual's dog attacks a person or assistance dog and causes serious or fatal injuries.
In February the government announced it would introduce new measures to tackle out of control dogs by changing the law to ensure irresponsible owners can be prosecuted regardless of where their dog attacks.
Under the government's plans, prosecutions could also be brought against owners of dogs that attack guide dogs and other assistance dogs.
Crime Prevention Minister Jeremy Browne said:
Dog owners who fail to take responsibility for their dogs must be held accountable. Today's consultation will give the public a say in whether owners of dangerous dogs that attack people should face tougher penalties, possibly life imprisonment.
Jeremy Browne is meeting victims and campaigners during a visit today to the offices of charity The Guide Dogs for the Blind Association.
He added:
This government is taking urgent action to protect the public from out of control dogs. We are changing the law so owners can be prosecuted for attacks on private property and our anti-social behaviour reforms will give the police and local agencies more effective powers to deal with dangerous dogs.
Animal Welfare Minister Lord de Mauley said:
Dog attacks are terrifying and we need harsh penalties to punish those who allow their dog to injure people while out of control.

We're already toughening up laws to ensure that anyone who owns a dangerous dog can be brought to justice, regardless of where a dog attack takes place. It's crucial that the laws we have in place act as a deterrent to stop such horrific incidents.
The consultation will run from today until 1 September. Any new measures will be included in the Anti-Social Behaviour, Crime and Policing Bill.
Published 6 August 2013
Last updated 6 August 2013
+ show all updates
Removed a picture
Added pictures
Added a picture
First published.