Accessible Britain Challenge Awards 2015 shortlist announced
Disabled people across the UK are benefitting from the work of 12 organisations shortlisted for DWP's Accessible Britain Challenge Awards.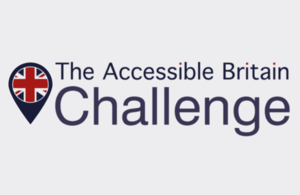 The shortlist announced today recognises those making an outstanding contribution to inclusive and accessible communities for the 12.2 million disabled people across the UK.
The awards highlight the huge contribution disabled people make through accessible communities through employment and also economically with a combined spending power of £212 billion a year, known as the 'purple pound'.
The YMCA Community Gym in Peterborough has been shortlisted in the 'Innovative use of Buildings, Spaces and Places category' and aspiring Paralympic athlete and former prisoner Craig Green is just one example of the way they are helping disabled people to build a brighter future.
Craig, 33, was born with a rare condition called Poland syndrome which affects his right hand and a pectoral muscle. He started working at the YMCA as part of their work experience programme for prisoners and is now a fully qualified personal trainer at the gym. The gym is fully inclusive and provides specialised equipment and bespoke fitness programmes for people with disabilities and long-term health conditions. Craig has now set his sights on representing Team GB cycling at the 2016 Paralympic Games in Rio, Brazil.
Craig Green said:
Training and now working at the YMCA gym has given me a new sense of purpose.

It is so much more than a place to exercise – it's a community where like-minded people can come together to overcome all sorts of different barriers they are facing.

I hope we can inspire others to follow our lead because places like this really do change lives.
The award winners will be announced at a ceremony at the House of Commons on 12 March 2015, in association with the British Institute of Facilities Management (BIFM).
Minister of State for Disabled People Mark Harper said:
From buses and beach huts to music venues and museums these nominees are making a real difference to the lives of disabled people.

Through the Accessible Britain Challenge Awards we aim to recognise them for their efforts as well as raise awareness and motivate other organisations to follow suit. We want everyone to get on board and enable disabled people to participate fully and actively in society.

I wish all the nominees the best of luck and congratulate them for the fantastic work they are doing in their communities.
Gareth Tancred, CEO of awards sponsor the British Institute of Facilities Management (BIFM), said
It is vital that we better understand the challenges that disabled people face when they access facilities and that this understanding is connected into the design process. By adopting universal design and inclusive practices at the earliest stage, everyone should be able to access services independently, and have equal opportunity to enter, use and enjoy the built environment.

Too often we see examples of where the design of buildings has not taken into consideration disabled access so we're pleased to support the showcasing of organisations that are getting this right. By highlighting and embedding best practice into professional standards and qualifications, we can help more organisations in creating inclusive environments.
About the Accessible Britain Challenge Awards
Organisations are nominated across 4 categories:
Improved mobility
Innovative use of buildings, spaces and places
Safer neighbourhoods
Inclusive social activities
Nominations for the awards were made by individual disabled people or disabled people's organisations, encouraging them to get involved and to share how they have benefitted from local projects, initiatives, services or social activities.
Find out more about the Accessible Britain Challenge – including online resources bringing together guidance, case studies, toolkits and good practice on inclusive and accessible communities.
Accessible Britain Challenge Awards – shortlist of nominees
Improved mobility
The Corporate Disability Access Forum – West Cheshire
Opening Doors Better Bus Accessibility Project – Norwich
Options for Independent Living (OIL) Rail Sub Group/Essex County Council: Try a Train Initiative – Essex
Innovative use of buildings, spaces and places
DOTS Disability Community Interest Company-Strategic Disability Consultation Service – Bournemouth
Nene Park Trust - Nene Park for All – Peterborough
YMCA Community Gym – Peterborough
Safer neighbourhoods
Safe Places in Poole and Bournemouth Scheme
Safe Places, Grapevine – Coventry
Safe in Town – West Cheshire
Inclusive social activities
Attitude is Everything – London
The Redbridge Autism Awareness Roadshow
Inverclyde Access to Computing for Beginners – Greenock
Contact Press Office
Media enquiries for this press release – 020 3267 5141
Press Office
Caxton House
Tothill Street
London
SW1H 9NA
London Press Office (national media and London area enquiries only – not questions about personal claims) 020 3267 5144
Out-of-hours (journalists only) 07623 928 975
England and Wales (local media enquiries) 029 20 586 then 097 or 098 or 099
Scotland (local media enquiries) 0131 310 1122
Follow DWP on:
Published 20 February 2015