World news story
A musical finale for Pacific police forces
This was published under the 2010 to 2015 Conservative and Liberal Democrat coalition government
With guitars in hand, police officers attending the inaugural police leadership course in Porirua sang their farewells as the course was officially closed.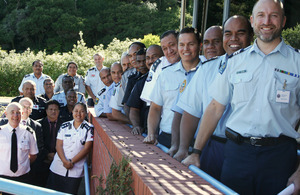 Australian Deputy High Commissioner, Remo Moretta, presented certificates to the 21 students from 15 Pacific Islands who had travelled from as far afield as Federated States of Micronesia in the northwest Pacific to the Cook Islands in the south Pacific. The UK, Australia and NZ governments jointly funded the initiative which drew senior police officers from around the Pacific.
Mr Moretta congratulated the students for completing the course and challenged them to use their new found knowledge when they returned home.
Superintendent Adrian Bridgen from the International Police College at Bramshill, UK said:
The course was designed to help the students understand themselves as leaders and improve self awareness and judging from the feedback I've received we've achieved this.
A view agreed by Superintendent Akatauira Matapo from the Cook Islands, who said:
I thought I knew everything about leadership until I attended this course. I feel that I am now a better person for having come to the New Zealand Police College and I cannot wait to get back home to implement the changes I've learnt on the course.
The course was jointly funded by UK, through the South Pacific network's regional programme budget, The Australian Federal Police and the New Zealand Police Force. Martin Fidler, Deputy High Commissioner, Fiji said:
The project is a really great example of the UK, NZ and Australia working together and we look forward to many more opportunities for advancement of police leadership in the Pacific.