News story
A comprehensive strategy to defeat extremism
Counter-extremism strategy aims to tackle the full spectrum of harms caused by extremism: violent and non-violent, Islamist and neo-Nazi – hate and fear in all their forms.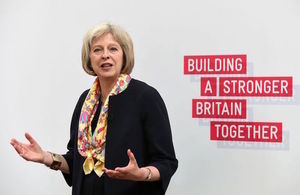 Protecting our communities by challenging extremists' poisonous narratives and promoting the positive alternative to that twisted ideology are the focus of the government's counter-extremism strategy.
At the heart of the strategy, which has been launched by the Prime Minister and Home Secretary today (Monday 19 October), is a partnership between government and individuals, groups and communities, who want to see extremism defeated. It is a partnership that will not only seek to counter the ideology spread by extremists, but will stand up for the shared values that unite us as a country: values that include democracy, free speech, mutual respect, and opportunity for all.
Counter-extremism strategy: Lord Ahmad's message
The strategy sets out four principal areas in which action will be taken:
confronting the extremist ideology head-on
actively supporting those who want to fight extremism, but are too often disempowered or drowned out of the debate
disrupting extremists, aggressively pursuing the key radicalisers who do so much damage
building stronger and more cohesive communities, tackling the segregation and feelings of alienation that can help provide fertile ground for extremist messages to take root
Home Secretary Theresa May said:
In recent times, we have seen extremists operating at an unprecedented pace and scale, seeking to divide our communities and cause great harm.

The rise of ISIL is particularly alarming, driven in part by their sophisticated use of the internet and social media. But the threat posed by extremists is not limited to violence, nor to Islamist extremism. The rise of neo-Nazi groups, and the increase in antisemitic and anti-Muslim hatred is deeply concerning.

Where non-violent extremism goes unchallenged, the values that bind our society together fragment. Women's rights are eroded, intolerance and bigotry become normalised, minorities are targeted and communities become separated from the mainstream.

Such behaviour cannot go uncontested. We will systematically confront and challenge extremist ideology, exposing it for the lie it is. And we will thwart its destructive consequences. We will disrupt all those who seek to spread hate and we will prosecute all those who break the law.

But most importantly of all, we will stand up for all those who know that in Britain we are stronger together. Because when we join up all the voices of those who want to defeat extremism, they are louder and more powerful than the voices of those who seek to divide us.
Published 19 October 2015