Press release
600,000 jobs in UK drinks industry safer in reformed EU (Archived)
UK's £45 billion wine and spirits industry supports nearly 600,000 jobs, with EU export market worth £1.8bn last year.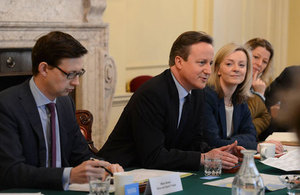 UK's £45 billion wine and spirits industry supports nearly 600,000 jobs, with EU export market worth £1.8bn last year.
Nine out of 10 wine and spirits producers and exporters say Britain is better off in the EU.
International EU free trade agreements worth hundreds of millions every year to British spirits trade would be at risk if we left the EU.
Almost 600,000 jobs in the UK alcohol industry will be safer in a reformed European Union, the Prime Minister vows today.
Britain's wine and spirits industry made £1.8 billion in EU exports for the UK economy last year.
The country's booming alcohol industry also makes hundreds of millions a year from 35 free trade deals struck by the EU with over 50 countries. For example, trade deals the EU has with South Africa and South Korea are worth £250 million to the UK.
Since the EU signed a deal with South Africa, UK gin exports have increased from virtually nothing to over £2 million. And gin exports to South Korea have trebled in the 4 years since a 2011 free trade agreement.
Prime Minister David Cameron today warns that jobs and investment could be put at risk if the UK leaves the EU and has to renegotiate bilateral deals for alcohol sales with these countries and the EU.
EU free trade talks are already under way with the US, India and China, which could open up huge new growth opportunities for the British alcohol industry through world-leading products such as Scotch whisky and English gin.
Prime Minister David Cameron said:
Britain will be stronger, safer and better off in a reformed Europe than out on our own, because we will have full participation in the free trade area, bringing jobs, investment, lower prices and financial security. That means real certainty so you can plan for the future.

On the other hand, those who want to leave Europe can't tell you if British businesses would be able to access Europe's free trade area; or if your job is safe, how much your prices would rise, how much your mortgage would be at risk, or if the funding for your local school or hospital is secure. They are offering you risk at a time of uncertainty. It is a leap in the dark.
A third of UK wine and spirit exports, worth £1.8 billion a year, currently go to the EU, meaning a vote to remain in a reformed union would protect the huge industry from potential future trade barriers, rules and regulations which could keep British products out.
A substantial chunk of the UK's export business comes from importing international wine from countries around the world and repackaging it for sale in the EU. This trade relies on 24 separate deals that the EU has with countries including Australia, South Africa and the US. All of these would have to be renegotiated if Britain left the EU, putting this business at risk.
And Britain's seat at the table allows us to shape EU rules that govern international output – in 2008 we were able to ensure new regulations for gin reflected standards already met by our industry, meaning our products were protected. If we vacated that seat, we would lose that influence and ability to protect our industries, and could put our position in the marketplace at risk.
In such a climate our winemakers – winning scores of accolades and international acclaim for the quality of their sparkling wine in particular – could find it more difficult to take on the best France, Italy and Spain have to offer.
In a survey by the Wine and Spirits Trade Association (WSTA), 90% of respondents said they wanted Britain to remain in a reformed EU.
The UK produces 4.5 million bottles of wine a year from its 470 vineyards and 135 wineries. We exported 30 million bottles of gin and 183 million bottles of whisky to the EU in 2015.
WSTA chief executive Miles Beale said:
The vast majority of our membership is clear that the industry will better be able to invest, grow and create jobs if the UK remains in the single market. The industry needs a powerful UK voice within the EU to ensure that we can shape and influence regulations that will impact on the trade and its access to the EU's 500 million consumers.

It is clear that the UK spirit sector's strong exports performance and our place at the centre of the international wine industry are hugely positive for the UK and its consumers. There is real concern that this would be put at risk as a result of the UK exiting the EU.
Notes to editors
The WSTA attributes £17 billion of economic activity to wine and £28 billion to spirits (total equals £45 billion).
Four out of 5 members of the WSTA cited concerns over the certainty of their trading environment as a major factor in their opposition to leaving the EU.
Other key issues raised were restricted access to the single market; the UK losing its place at the table in setting EU regulations to which we would need to adhere; the impact of being excluded from existing free trade agreements with the EU; and the possibility of tariffs being imposed.
600 million bottles of wine are bottled in the UK each year.
English sparkling wine has been highly praised for its quality, beating Champagne in some competitions, and collecting a total of 74 medals and trophies in the 2014 Decanter World Wine Awards.
The UK was responsible for more than 70% of global gin exports in 2014.
Published 23 March 2016