Press release
£5.6 billion worth of deals signed in China
Trade and investment deals totalling over £5.6 billion and creating over 1,500 UK jobs have been signed between UK and Chinese firms.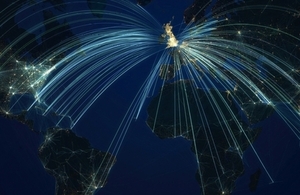 Trade and investment deals totalling over £5.6 billion and creating over 1,500 UK jobs have been signed between UK and Chinese firms during the largest ever trade mission led by a Prime Minister to China.
More than 120 British companies, including around 60 small and medium-sized UK firms, have made the trip to China, which aims to take the economic relationship between the 2 countries to a new level.
Headline announcements include Jaguar Land Rover's new £4.5 billion export deal; Surrey Satellite Technology's contract with Chinese partners Space Star Technology Company for a new satellite constellation worth £100 million and Chang'An Automobile Co. Ltd which will invest £60 million and create 300 jobs at a new European Research & Development Centre in the West Midlands.
Prime Minister David Cameron said:
Linking Britain to fast-growing markets like China is a vital part of the government's plan to provide sustainable growth and compete in the global race.

Today's announcements show the huge potential to increase business with China.

We are determined to do all we can to throw open the door for British companies to benefit from China's vast and varied markets, showcasing British business, particularly small enterprises, in China and highlighting investment opportunities.
Business Secretary Vince Cable said:
Increasing trade with China and other fast growing markets will help us to build a stronger economy. Our Industrial Strategy is providing the confidence for continued investment in key sectors of the UK economy.

It is particularly encouraging to see increasing business today for the success story that is the UK automotive industry from companies like Jaguar Land Rover, Chang'An Automobile Co, Geely Automotive and McLaren. All are helping to create more private sector jobs outside of London.
Trade Minister designate Lord Livingston said:
More and more UK companies are selling their products and services to China with exports almost doubling since 2009 - reaching more than £1 billion per month. The UK is 1 of the most open countries to Chinese investment and was the most popular European destination for Chinese investment last year.

The raft of deals shows that the UK and China truly are partners for growth - China's growing appetite for British expertise proves that the UK is 1 of the most attractive inward investment destinations in the world.

UK Trade & Investment stands ready to support companies of all sizes that want to take their first steps into this rapidly-expanding market and is actively showcasing all that the UK has to offer to Chinese companies looking for business opportunities overseas.
Some of the other major deals signed today include:
Rolls-Royce has won an additional £17 million contract to supply China's energy infrastructure. The UK-based global power systems company will supply PetroChina with equipment and services to expand the flow of natural gas through the Lunnan-Tulufan branch of the second West to East Pipeline Project

McLaren announced that in only 3 months of trading in China, they had exported 108 high-technology 12C sports cars and have taken more than 30 orders for the ground-breaking McLaren P1 – with a total export value of £45 million. McLaren anticipate that in future China may account for 10% of total McLaren sales – with an export value of over £50 million per year

Geely reaffirmed its commitment to invest into the London taxi project to bring a new green TX5 taxi model into production over the next 5 years by increasing its investment figure from £150 million to £180 million. Geely has confirmed that £80 million of this will go into the UK, including £30 million for a new manufacturing facility and approximately £50 million for research and development on the next generation of plug-in hybrid electric vehicles and electric vehicles. As a result of ongoing increased production Geely hopes to increase its workforce at regional sites in the UK
Half of the businesses attending are small and medium sized enterprises (SMEs). Among them is Manchester-based Sweet Mandarin, an award-winning Chinese restaurant and small British manufacturer of gluten free, nut free, dairy free sauces. The company signed a deal worth up to £6 million to sell Chinese sauces into the Chinese market, creating up to 15 new UK jobs.
Wiltshire-based SME Moulton Bicycles announced that its Chinese distributor has made an order, with a value of £500,000, for a special model of Moulton bicycle that will only go on sale in China.
Karren Brady, Vice Chairman of West Ham United, who formed part of the delegation, said:
I'm absolutely delighted to be part of this trade mission and have already seen the tangible benefits that such a trip can provide, especially to SMEs. SMEs are the engines of the economy and I'm so pleased that the Prime Minister has delivered for them during this ground-breaking trip.
Notes to editors
1.Commercial deals announced today include:
Sinophi Healthcare signed contracts for hospital management and hospital investment worth £120 million. These include a joint venture with 1 of the biggest hospitals in Jiangsu Province (population 80 million people) in East China

The University of Nottingham announced a collaboration between the UK and China in a range of areas including a £25 million Marine Economy Research and Technology Transfer Centre, a £27 million development of the Ningbo campus and a multi-million pound Advanced Finance Institute in Guangdong

Intercontinental Hotels Group (IHG) has signed contracts for 42 new hotels so far this year in Greater China, taking its total pipeline to nearly 180 hotels due to open in the next 3 to 5 years. This is in addition to the 200 hotels IHG already has in the region. As a result, the company will recruit 110,000 people in Greater China over the next 3 to 5 years. This growth will help safeguard hundreds of jobs in the UK where the company is based

Shell and the Development Research Council – the key policy think tank under China's State Council – signed an agreement to carry out a second 2 year energy policy study. Earlier this year, their first joint study made far-reaching recommendations for opening up and reforming China's huge energy sector. Phase 2 will focus on gas policy and energy security

MIRA, an advanced engineering consultancy based in Nuneaton, has been awarded contracts worth in excess of £2 million by the Chinese automotive manufacturer Geely to consult on the design of their new vehicle project. This is phase 2 of a partnership between MIRA and Geely

Modern Water announced 3 key contracts. Modern Water has worked within China for 5 years, targeting water shortage, energy efficiency and environmental protection. Modern Water's monitoring equipment business and its water desalination plant businesses in the UK will benefit from the contracts signed in China and resulting projects in both China and the Middle East. Additional technical jobs are already being created based in Modern Water's Guildford head office, R&D jobs in its Cambridge office and engineering jobs in its Shanghai office

Manchester based training and hardware supplier, EDM signed a cabin crew training software system contract worth £520,000 with partner company Xi'an Feibao in Shanghai today. Xi'an Feibao's end-customer is Beijing Capital Airlines

Huntsworth Group has agreed that Asia's biggest PR agency will take a 19.8% stake in the group – a deal worth £36.5 million.This was confirmed in October 2013

BRE announced that 2 Chinese developments are using the UK's environmental assessment standard, BREEAM, to demonstrate best practice in sustainable building design, construction and operation. The Living Lattice in Meixi Lake Eco City, Changsha and 2 new towers in Shanghai International Shipping Service Centre's marina development were both awarded certificates

Benoy announced a number of new project openings in China, including the luxury retail podium for the Jing An Kerry Centre, a new mixed use development featuring a 6 star hotel in Shanghai, and the Vanke scheme – a retail development - in Beijing

Guinness World Records signed a partnership with Foreign Languages Teaching and Research Publishing (FLTRP) Ltd. The partnership will include publishing, e-publishing and live event initiatives for FLTRP's 20 to 30 million English learners and free downloadable materials for Chinese schools

Sunderland Software announced a special package for innovative Chinese companies looking to establish a European base in its new £10 million Software Centre. The package includes market opportunity analysis, employment support in terms of access to subsidised graduate placements and recruitment assistance, reduced rate innovation and office space, and links to industry partners including bluechip partners such as IBM and Cisco

Monitise announced its globally recognised Mobile Money platform with full access for Chinese speakers. Monitise plans to extend its services into mainland China, after the initial launch in Hong Kong

Little Bridge World is launching its first English language learning mobile applications into several markets around the globe, with the Samsung GALAXY Tab3 Kids tablet

Warwickshire-based transport engineering specialists, Severn Lamb, announced they had closed their largest single order for 10 years after winning order to supply a new theme park in Northern China with a selection of ride vehicles from large steam outline rail trains through to period style trolleys, buses and cars. It is expected to secure employment for the next 18 months

UKTI agreed additional support to the China-Britain Business Council (CBBC) to increase the help for British companies seeking to do business in and with China. Under the new deal between CBBC and UKTI:

CBBC will be able to more than double, over 4 years, the volume of support and business opportunities it generates for British businesses
CBBC will invest in further sector specialists to match the key growth sectors in the Chinese economy
CBBC will increase its team by 26 people, almost all on the ground in China

Tregothnan announced a new marketing office in China, tea sales in China, and the signing of a Memorandum of Understanding (MoU) for investment in a new UK school, apprenticeships, and training

Space Syntax have signed a contract worth £65,000 with Fusong for Fusong's new town spatial configuration strategy. This is a Smart City pilot project of MOHURD

SgurrEnergy has signed a contract to research wind turbine power curve characteristics and design improvement for a project in Zhangbei - its first contract of this kind in China

UKTI also announced a new pilot scheme, agreed with The University of Sheffield, to link local South Yorkshire businesses with Chinese speaking students. It aims to help create and maintain long-lasting links to the graduates, developing and consolidating an alumni network for the benefit of UK companies doing business in and with China
2.MoUs and related announcements during the visit include:
an MoU signing between Heythorp Healthcare and Jiangsu Far East (Yadong) Construction Development Group. The project is a £40 million joint venture with the local landowner where Heythorp will raise and invest up to £30 million to develop a high-end flagship mixed-use healthcare campus on an 18 acre site just outside the city centre. The project will incorporate a range of healthcare facilities and offer a full range of services - including elderly nursing, rehabilitation, primary care, a specialist dementia facility, care training school and other healthcare amenities that we will manage in partnership with MCH. Construction is planned for quarter 3 2014 with Phase 1 completed by mid 2016. Project to be completed by 2018

an MoU signed between the British Standards Institute and the Standards Administration of China (SAC) to make it easier for the SAC to adopt British Standards. The MoU will provide UK businesses that meet British standards easier access to the Chinese market

an MoU between the China International Trust and Investment Corporation (CITIC) and UK partners: Circle Partnership (hospital management); and Heythorp Healthcare/NHS Medway. This will pave the way for joint ventures to establish services in the UK healthcare section of CITIC's major development in Kunming. It has an estimated value of £7-22 million over the next 5 years

an MoU signing between Healthcare UK and Zhejiang Province Health Bureau. The MoU will strengthen collaboration around improved health provision and policy, and partnerships between the participants' respective health sectors

an MoU signing between IXICO and Chinese Academy of Science. The MoU will promote collaboration between UK and China in neurodegenerative disease, especially dementia; linked to UK Prime Minister's Dementia Challenge Initiative

an MoU between King's College London and Peking University Health Science Centre on research, faculty and student exchanges and working towards dual programmes. Indicative value of £30 million (based on similar collaboration with University of Hong Kong)

an MoU signing between Yida, Arup and KPMG, as part of a high-end private hospital project in Beijing. Under the terms of the agreement, KPMG will be responsible for the business case consulting work and Arup will be responsible for all the building design

an MoU between Standard Chartered and the Agricultural Bank of China was signed, with the partnerships from the agreement expected to generate millions of pounds. The agreement allows both companies to leverage each other's networks

an MoU signed between Cambridge Architectural Research and the International Center for Bamboo and Rattan (ICBR), the International Network for Bamboo and Rattan (INBAR), the University of Cambridge, MIT (Massachusetts Institute of Technology) and the University of British Columbia regarding classification in Chinese and English for structural bamboo products. This could play a substantial part in increasing the use of these low-carbon building products

Greenbank Group signed 2 letters of intent to formalise distribution and collaboration agreements, worth in excess of £4 million with 2 Chinese power related businesses for partial manufacture, resale and service using Greenbank's combustion enhancing technology for coal fired power plants

UKTI initiated an MoU with China's mega shopping platform Alibaba. The agreement will see Alibaba's TMall allocate a dedicated team to support UK brands and help UK companies find agents and distributors in China, increasing their visibility in the Chinese market. The Prime Minister met with Alibaba's founder Jack Ma in Shanghai and welcomed the agreement. The MoU is the first part of the new UKTI Global e-Retail Programme to accelerate UK companies' export sales to international consumers through e-Marketplaces (digital shopping malls)

UKTI signed an MoU with the China Industry-University Research Investment and Financing Union to bring together a digital media and entertainment alliance with key industry and financial institutions from the UK and China. The Alliance aims to facilitate trade, collaboration and investment worth a potential £2 billion. Chinese companies in the Alliance include Future TV (Tencent/CNTV partnership), Shanghai Digital Industry Group, GDEA Ltd., Bank of China and Beijing Zhongqing Venture Capital Management Inc. UK companies include BBC Worldwide, TalkTalk, Pinewood Studios, Tenshi, Eidos/Square-enix, Freeformers and Founders Forum
3.In the 2012 Autumn Statement, UKTI was awarded an additional £70 million for each of 2013/14 and 2014/15, enabling the recruitment of more international trade advisers around the country, expansion of existing services including the Trade Access Programme (TAP) and the Overseas Market Introduction Service (OMIS), and support to expand the range of assistance available to UK companies through overseas British chambers of commerce.
4.The government's economic policy objective is to achieve 'strong, sustainable and balanced growth that is more evenly shared across the country and between industries'. It set 4 ambitions in the 'Plan for Growth', published at Budget 2011:
to create the most competitive tax system in the G20
to make the UK the best place in Europe to start, finance and grow a business
to encourage investment and exports as a route to a more balanced economy
to create a more educated workforce that is the most flexible in Europe
Work is underway across government to achieve these ambitions, including progress on more than 250 measures as part of the Growth Review. Developing an Industrial Strategy gives new impetus to this work by providing businesses, investors and the public with more clarity about the long-term direction in which the government wants the economy to travel.
5.UK Trade & Investment (UKTI) is the government department that helps UK-based companies succeed in the global economy. We also help overseas companies bring their high quality investment to the UK's economy – acknowledged as Europe's best place from which to succeed in global business. UKTI offers expertise and contacts through its extensive network of specialists in the UK, and in British embassies and other diplomatic offices around the world. We provide companies with the tools they require to be competitive on the world stage. For more information on UKTI, visit www.ukti.gov.uk or visit the online newsroom at www.ukti.gov.uk/media.
Published 3 December 2013