£5 million greener bus fund announced to tackle air pollution
Government announced competition so local authorities can fit emission-cutting technology and provide better journeys.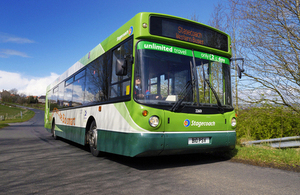 Local authorities across England will from today (10 September 2015) be able to bid for a share of £5 million funding to fit buses with green technology and offer better journeys.
The Clean Bus Technology Fund 2015 will allow local authorities to bid for up to £500,000 – enough to retrofit hundreds of buses that will reduce NOx (nitrogen oxides) emissions and improve air quality.
The fund is open for bids until the end of October, with a particular focus on pollution hotspots in cites and urban areas. The winners will be announced towards the end of the year.
Transport Minister Andrew Jones said:
The £5 million Clean Bus Technology Fund will provide hundreds of cleaner buses to improve air quality in towns and cities across England and I urge local authorities to submit bids.

The funding will also support the British industries helping deliver the technology. Today's announcement continues the government's commitment to improve air quality by upgrading existing vehicles on the road while also backing the low-emission solutions for the future.
This funding fits existing bus fleets with green technology which reduces NOx pollution from buses by at least 50%.
This new £5 million scheme will add to the £20 million the government has already invested since 2011, together with some significant contributions from local authorities and bus operators, in similar local retrofit schemes for different types of vehicles which have significantly improved air quality. So far, around 1,500 buses have been retrofitted in London and in other parts of England and last year's Clean Vehicle Technology Fund provided over £8 million to councils to upgrade over 1,200 vehicles – vans, taxis, buses and even fire engines.
The government also launched the £500,000 Air Quality Grant Scheme for 2015/16 today. This scheme supports local authority projects to improve air quality with successful schemes previously encouraging local cycling projects, developing and implementing local low emission strategies and local engagement and awareness raising initiatives.
News desk enquiries
Media enquiries 020 7944 3021
Out of hours media enquiries 020 7944 4292
Switchboard 0300 330 3000
Published 10 September 2015