Academy numbers double since May 2010 as schools embrace government's plan for education reform.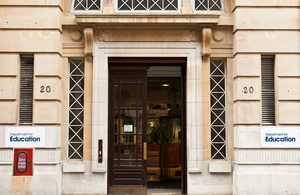 http://www.youtube.com/watch?feature=player_embedded&v=4l-FcbDKnwc
Figures released today show momentum is building for the government's flagship school reform. The government announced today that
there are now 407 academies open in England
371 secondary schools are now academies - 11 per cent of all secondary schools in England.
204 academies have opened since September 2010 under the coalition government, with 46 opening this week alone. Of these, 136 were schools converting to becoming academies that will now use their academy freedoms to support weaker schools. Sixty-eight were weaker schools that had been granted academy status and new sponsors to help them turn round underperformance
at least one school has converted to become an academy every school day since September
an additional 254 more schools are in the pipeline having applied to become academies, with more applications coming in every week
Sixty-four schools applied to become academies in the last week before Christmas alone
it took 4 years to open the first 27 academies. It took 5 years to open 15 city technology colleges.
In addition, the Department for Education is working with academy sponsors who have targeted underperforming schools. Plans are advanced to reopen these schools as academies in the coming academic year.
Michael Gove today congratulated the schools becoming academies this term:
I am delighted that more schools are opening as academies this week, and are now free from central and local bureaucratic control.

Schools are taking up our offer to become academies because they recognise the huge benefits of being an academy - more autonomy, more power to teachers, and an opportunity to thrive, free from interference from government.

The Coalition believes that headteachers and teachers - not politicians and bureaucrats - know best how to run schools. That's why all school now have the opportunity to become academies, with stronger schools supporting weaker ones.
Further information can be read on this press release.
DfE enquiries
Central newsdesk - for journalists 020 7783 8300
General enquiries - for members of the public 0370 000 2288
Published 6 January 2011