Press release
21st anniversary of Srebrenica genocide
The Foreign Secretary, Rt Hon Philip Hammond, is hosting a reception to commemorate the 21st anniversary of Srebrenica.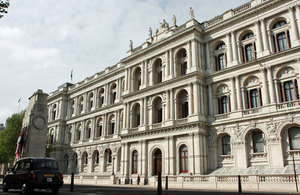 11 July marks 21 years since the genocide in and around the town of Srebrenica, Bosnia and Herzegovina. Over 8,000 Bosniaks, mainly men and boys, lost their lives in one of the worst atrocities in Europe since 1945.
The 21st anniversary is an occasion to reflect on the lost generation that did not have the chance to 'come of age' and fulfil their potential as adults. The youngest victim was a baby girl who was just 2 days old when she was murdered - she would have been celebrating her 21st birthday this past weekend.
To mark the occasion of the 21st anniversary of the Srebrenica genocide, the Foreign Secretary Philip Hammond made the following statement:
We must ensure that we act to prevent such evil from ever taking place again. We must remain vigilant against prejudice and intolerance spread by those who seek to divide us.

It is important to tackle the legacy of Srebrenica and ensure that perpetrators are held to account, justice is achieved for all victims and impunity is ended. We welcome the work of the International Criminal Tribunal for the former Yugoslavia (ICTY) in bringing some of the perpetrators to justice. But it is disappointing that so many cases remain unresolved. We call on the Bosnian authorities to move ahead quickly with the backlog of cases and the reform of the justice sector.

I call on all leaders and authorities in Bosnia and Herzegovina to work in the spirit of reconciliation, tolerance and cooperation. We owe it to the victims to build a prosperous and secure Bosnia and Herzegovina; we owe it to Srebrenica's, and indeed Bosnia's, lost generation to ensure that young people right across the country today have real hope for the future.
Further information
The Foreign Secretary, Rt Hon Philip Hammond, will host a reception on the evening of Monday 11 July at the Foreign Office to commemorate the 21st anniversary of Srebrenica.
The British government is providing funding of £1,200,000 over 3 years to the UK charity Remembering Srebrenica.
HM Ambassador Edward Ferguson will represent the UK at the burial and official commemoration ceremony in Bosnia and Herzegovina, held at the Potočari Memorial Centre, on Monday 11 July 2016.
Published 11 July 2016