World news story
2016 Summer football matches in the USA
Travel advice for fans travelling to the United States this summer to attend friendly matches across the country.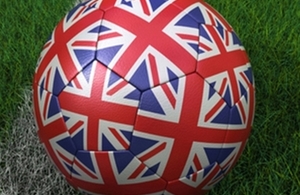 For a comprehensive list of football matches and where they are being played, please refer to the table below. Each match venue has their own website which provides information on how to get to the game, what items are allowed or are not permitted into the stadium, and any special requirements.
In addition to this advice, please review our travel advice for the USA.
Visas:
the US Visa Waiver Programme (VWP) allows most British passport holders to visit the USA for up to 90 days without a visa, but you may need to get authorisation from the Electronic System for Travel Authorisation (ESTA) at least 72 hours before you travel. If you don't qualify for the VWP, you'll need to apply for a vias from the nearest US Embassy or Consulate To enter the US under the VWP you'll need to have a passport with an integrated chip (an ePassport). See: Entry requirements and the ESTA website for guidance
your European Health Insurance Card (EHIC) is not valid in the USA and there is no special arrangements for British Visitors. Comprehensive travel insurance is essential, even if you are only going for one night. It could save you a lot of money should you get into difficulty
Passports:
know where your passport is at all times and keep it in a safe place.
the USA has an ID culture, and you could be asked frequently to present your identification. Value your passport and look after it carefully
never leave your passport in a rental car, even for a short period. Rental cars are prime targets for theft in many cities in the US
your passport is not always safer on you. Lock your passport in a safe if you have access to one and take another form of ID, such as your driving licence, out with you
make two photocopies of your passport – leave one with friends or family and take the second with you, or store it online using a secure data storage site
Match Tips
allow enough time to arrive at the venue, especially if it is your first time visiting
bring identification if you are collecting or purchasing tickets on the day
remember to look left when crossing the road and if driving keep to the right hand side
note the legal age for alcohol in the United States is 21. You will be asked for valid identification to prove your age
minimise the items you are bringing to the game; bags will be searched and you may be asked to dispose of items. For complete listings, visit your venue website
Emergency Telephone Numbers Dial 911 for any emergencies while in the United States. Should you need consular assistance, keep the details for your closest British embassy or consulate general in the US on hand.
Scheduled Matches
Published 14 July 2016
Last updated 14 July 2016
+ show all updates
Updated list of fixtures
First published.