News story
£16 million Youth Engagement Fund promoted around the country
The £16 million Youth Engagement Fund aims to improve young people's educational achievement and employability.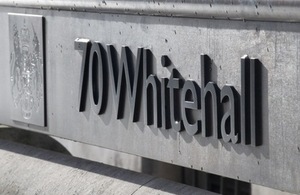 Through joint funding from the Cabinet Office, Department for Work and Pensions and the Ministry of Justice, it aims to support up to 18,000 young people in over 100 schools in England.
The fund is being promoted around the country this week with events in Leeds and London to tell potential bidders about the overall aims of the fund and the bidding process. More than 250 people have already registered an interest in the fund via the e-procurement portal.
Nick Hurd, Minister for Civil Society, and Jeremy Wright, Minister for Prisons and Rehabilitation, were in London to talk about the fund and answer questions from potential bidders, including representatives from social sector organisations, schools, local authorities, social investors and intermediaries.
Minister for Civil Society Nick Hurd said:
If we are to succeed in tackling complex problems, which have damaging and often lasting effects on people's lives, it requires collaboration across sectors and across government.

Social impact bonds are an important mechanism in tackling complex problems and the Youth Engagement Fund is the next step in continuing our drive to transform this kind of resourcing for communities.
Secretary of State for Work and Pensions Iain Duncan Smith said:
Improving young people's skills and employability is a key priority for this government. We now have record numbers of people in work, and youth unemployment is falling, but there's always more we can do.

That is why we are launching the Youth Engagement Fund to encourage wider investment to ensure all our young people – including some of the most disadvantaged – are given the best chance of securing a job and creating a positive future for themselves.
Minister for Prisons and Rehabilitation Jeremy Wright said:
Young people who aren't in education or a job are significantly more likely to become offenders and we are determined to do all we can to stop that from happening.

That is why we are supporting the Youth Engagement Fund, to provide as many opportunities as possible for young people from disadvantaged backgrounds.
About the Youth Engagement Fund
The Youth Engagement Fund aims to improve educational achievement and employability, helping to prevent young people aged 14 to 17 from becoming NEET (not in education, employment or training). Through helping disadvantaged young people to participate and succeed in education or training, it aims to improve their employability, reduce their long term dependency on benefits, and reduce their likelihood of offending.
The funding will be provided through social impact bonds (SIBs), an innovative way to solve complex social problems. SIBs are a payment by results system: investors fund innovative initiatives and government only pays if the initiatives are successful and achieve positive outcomes.
How to apply
Government will award the fund through a competitive bidding process over 2 stages:
initial application form: bidders must give an overview of their proposed programme, the group of young people they will work with and an indication of potential investors and local contributors
invitation to tender for shortlisted bidders
Apply through the DWP e-Procurement Solution (ePS) by 10am on 18 August.
Published 14 July 2014