Press release
£109 billion of future government construction opportunities up for grabs
Updated information has been published on proposed government construction projects through to 2020 and beyond.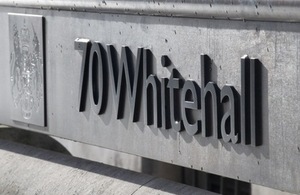 Information on opportunities to win future government construction contracts worth more than £109 billion will help suppliers to plan ahead, invest in and grow their businesses, Cabinet Office Minister Chloë Smith said today.
Industry can use the forward-looking information – published on a new online portal available today – to plan for the future based on what government proposes to build, construct or renovate in the coming years.
The Government Construction Pipeline is reviewed every 6 months to ensure new opportunities are reflected and more details are provided as they emerge. It has now been updated following the Spending Round for 2015 to 2016 to include further programmes and projects up to 2020 and beyond.
This version of the pipeline contains the largest amount of proposed construction projects ever published and includes opportunities related to investment in infrastructure across government as set out in Investing in Britain's Future:
more than £3.3 billion of new funding to build 165,000 affordable new homes in England over the next 3 years
£370 million in 2015 to 2016 for the long-term funding settlement for flood defences, alongside further funding commitments to deliver improved protection to at least 300,000 homes
more than £40 billion commitment to build High Speed 2 (HS2)
trebling annual investment in major road schemes by 2020/21 compared to today's levels – the biggest programme of investment in roads since the 1970s. For example, local authorities have been allocated nearly £6 billion to help repair the local road network and Highways Agency has allocated over £4 billion to resurface the vast majority of the national network by 2020 to 2021
Chloë Smith said:
We know that being transparent about opportunities available in the public sector is exactly what suppliers need to start looking at their business, investing and boosting their capabilities.

Regularly updating this information and providing construction suppliers with much earlier visibility of future opportunities within government gives UK business the knowledge they need to plan, get ahead of the game and grow. With more than £109 billion worth of future public construction contracts now up for grabs from now to 2020 and beyond, we are reinforcing our long-term commitment to rebalance the economy and help Britain get ahead in the global race.
The new interactive portal to help suppliers access the Construction Pipeline data in a simple and accessible format can be accessed directly from www.uk-cip.org.uk. Hosted by HM government's private sector partner Barbour ABI, the portal features a timeline and map view of government construction projects.
Notes to editors
The Government Construction Pipeline can be found at www.UK-CIP.org.uk.. This is Phase 1 of a portal development programme with further advancements in functionality to be added for future publications. The data is available in Excel format on GOV.UK and from http://data.gov.uk.
The government's commitment to provide more than £3.3 billion of new funding for affordable housing between 2015 to 2016 and 2017 to 2018 will see 165,000 new affordable homes built in England.
Detailed public and private sector infrastructure investment is available in the infrastructure investment pipeline. The pipeline is currently being refreshed and will be made available in spreadsheet form on data.gov. An updated National Infrastructure Plan will be published at the time of the Autumn Statement and will include a more comprehensive update of the pipeline. View the infrastructure pipeline.
Read Investing in Britain's Future (June 2013).
For details for national roads projects completed, under construction or due to start this Parliament, please see tables A.1 and A.2 of Investing in Britain's Future.
The Department for Education has detailed £6.6 billion of spend on 3 major programmes:

BSF Continuation Projects
Priority School Building Programme
Basic need, Maintenance and Devolved Formula Capital funding to local authorities and schools and colleges direct.

The government also publishes sector pipelines with potential procurement opportunities up until 2018 to 2019, currently worth £60 billion across 17 further sectors including ICT, professional services and energy consumption (last update May 2013). Together with the National Infrastructure Pipeline, the Construction Pipeline should not be seen as an absolute commitment for projects to proceed but used as a strategic planning tool.
Published 19 August 2013