Press release
£1 billion exports win for UK education in Saudi Arabia
UK education providers win 4 new contracts worth £850 million to establish 12 technical and vocational training colleges in Saudi Arabia.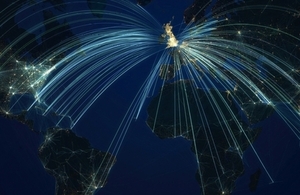 UK education providers have won 4 new contracts worth £850 million to establish 12 technical and vocational training colleges in Saudi Arabia, Skills Minister Matthew Hancock announced today (9 April 2014).
In total, 100 colleges are being set up across Saudi Arabia as part of its Colleges of Excellence programme, aimed at improving education and training.
UKTI Education is bringing together consortia to bid for these high value contracts and these new wins mean that UK education providers will operate 16 of the 37 colleges let to date, worth more than £1 billion to the UK economy.
The winning consortia are:
the Oxford Partnership, a consortium comprising Activate Learning, GEMS Education Solutions and Moulton College
Lincoln College
Hertvec, a consortium led by Hertford Regional College and also including North Hertfordshire College and the University of Hertfordshire
FESA, a consortium of leading UK colleges and training providers
The deals were signed during the government's Export Week in which 3,000 UK companies are taking part in over 70 nationwide events to encourage small and mid-sized businesses to sell overseas for the first time or break into new markets.
In January 2014, Minister of State for Skills and Enterprise Matthew Hancock visited Riyadh to underline the UK government's support for the UK bids.
Matthew Hancock said:
These deals are a vote of confidence in the UK's improving education system. Exporting helps companies grow and is a vital part of the government's long-term economic plan to create jobs and reduce the deficit.

I visited Saudi Arabia earlier this year (2014) in support of UK bidders and am particularly pleased that they will soon be offering high quality practical skills training to an additional 24,000 Saudi students including 14,000 Saudi women.

I look forward to seeing the UK's education and training presence continue to grow in Saudi Arabia and internationally. I encourage any company with global ambitions to contact UKTI.
Each provider has been offered an initial 5 year contract to deliver vocational training and employment-related skills to Saudi men and women. Of the 12 colleges to be operated by the UK providers, 7 will be for women and overall some 24,000 Saudi students including 14,000 women will be trained each year once these colleges reach full capacity.
Since August 2013, UKTI Education has been engaging with a range of UK education and training organisations – including both further education colleges and independent training providers - to raise awareness of the significant Saudi Colleges of Excellence opportunity, holding a series of seminars and briefings around the UK.
UKTI Education representatives and UKTI colleagues in Saudi Arabia have also accompanied UK bidders on a series of visits to the Kingdom and hosted a number of meetings with senior Saudi Colleges of Excellence staff in the UK. Bids have also received UK Export Finance support to provide the bonds and guarantees required.
Emily Ashwell, Managing Director of UKTI Education said:
This represents a significant achievement for the UK vocational education and training sector and I'm delighted that we have been able to support the groups involved in this process.

Along with our UKTI colleagues based in the Kingdom and those at UK Export Finance, we will continue to support UK providers as they operate in Saudi Arabia and show on an international stage the very best that UK vocational training can offer.
From September 2014, UK providers will operate 16 Colleges of Excellence across the Kingdom following the successful bids of UK providers TQ Pearson and the Nescot consortium in the first wave of the programme last year (2013). Additional Colleges of Excellence are due to be procured later in 2014 and UKTI Education will again be helping to co-ordinate the UK's response with initial briefing sessions planned in London during the summer (2014).
Ibrahim Al-Moaiqel, Director General of Human Resources Development Fund in Saudi Arabia, said:
The Kingdom of Saudi Arabia is reaching out to the best of the best in the world, as partners of choice.

We are delighted that 6 UK institutions will be bringing their experience and expertise, and working with us to help shape future opportunities for our citizens.
UKTI Education was established by UKTI and BIS as part of the International Education Strategy to help the UK education and training sector access commercial opportunities overseas, particularly high value opportunities.
Through industrial strategy, the whole of government is working in partnership with industry to set the long-term direction needed to give business the confidence to invest, increase global competitiveness, support innovation, creating more high-skilled, long-term jobs in the UK and maximise export potential.
Notes to editors:
UKTI Education works with overseas governments, states and businesses that want to engage UK partners in large-scale education projects. The team is a joint initiative between the Department for Business, Innovation and Skills and UK Trade and Investment. It is strategically placed within the UK government to bring together consortia of UK organisations to deliver effective, comprehensive education solutions. Our aim is to ensure potential overseas partners can easily access comprehensive UK expertise for their education priorities.

Export Week enables businesses to access the knowledge and experience of experts from UKTI and its regional partners. Whether businesses are taking their first steps overseas, or are already established exporters, Export Week will equip them with the knowledge and tools they need to succeed in international markets.

In November 2011 the Prime Minister and Lord Green launched the National Challenge - a major initiative to boost the number of SMEs that export - setting the target of getting up to 100,000 SMEs to either start exporting for the first time or spread to new markets over the next 5 years.

Export Week is a major component of the National Challenge and is part of a concerted campaign led by Lord Livingston to increase the number of British companies that export, from current levels of around 20% to 25% or more. By increasing the number of companies that export by roughly a quarter, about £36 billion could be added to the UK economy. Any company wanting to take part in Export Week can get involved by visiting the dedicated website at www.exportweek.ukti.gov.uk which gives details of events in each area.

Exporting is GREAT will reach almost 3 million individuals and 700,000 businesses with more than 4 employees, giving them a very specific call to action: to contact UKTI to find out more about exporting. It is intended to generate over 3000 appointments with UKTI International Trade Advisers, giving small businesses direct access to expert advice, support and finance to help them export. The campaign will cost £2.4 million and drive £1.2 billion in incremental export revenue from the leads it generates. The campaign creative features 2 SMEs who have grown their business internationally as a result of UKTI advice. Their case studies are available from the UKTI press office. For more information, SMEs should go to www.greatbusiness.gov.uk/ukti or call 0800 093 2094.

UK Trade and Investment (UKTI) is the government department that helps UK-based companies succeed in the global economy. We also help overseas companies bring their high quality investment to the UK's economy – acknowledged as Europe's best place from which to succeed in global business. UKTI offers expertise and contacts through its extensive network of specialists in the UK, and in British embassies and other diplomatic offices around the world. We provide companies with the tools they require to be competitive on the world stage. For more information on UKTI, visit www.ukti.gov.uk or visit the online newsroom at www.ukti.gov.uk/media.

UK Export Finance is a government department and is the UK's export credit agency. It complements the private market by providing assistance to UK businesses, principally in the form of insurance to exporters and guarantees to banks. In doing so, it works with exporters, banks and project sponsors to support UK exports to, and investments in, markets across the world.

The government's export credit agency is committed to playing an even greater role in the UK's export-led economic recovery after Chancellor George Osborne announced a series of measures in the budget designed to strengthen the products and services offered to UK exporters by UK Export Finance.

The new measures include:
changes to the Direct Lending Scheme (DLS) which will see a doubling of funds to £3 billion, relaxing conditions on the size of loans, cutting interest rates and putting the scheme on a permanent footing
working with private sector providers to deliver the enhanced direct lending scheme, ensuring that smaller and medium sized businesses can benefit
consultation on changes to the legislation governing UK Export Finance to allow the organisation to support individual export supply chains and intangible exports
launching the Export Refinancing Facility (ERF) by the end of April 2014
10.You can read the International Education Strategy here: https://www.gov.uk/government/publications/international-education-strategy-global-growth-and-prosperity.
Developed in partnership with the education sector, the International Education Strategy will ensure British schools, universities, colleges and education businesses continue to stay ahead in the global education market – worth almost £3 trillion annually.
It aims to secure an extra £3 billion worth of contracts for the UK's education providers overseas, and attract almost 90,000 extra overseas university students by 2018.
The strategy will also strengthen education partnerships with other countries, particularly emerging economies, expand the Chevening Scholarship programme which sees future global leaders study in the UK, and encourage more UK students to spend time overseas.
Published 9 April 2014