Weyhill Fairground Craft and Design Centre
With a long and important historical heritage, this diverse centre has been revived for the benefit of the local community.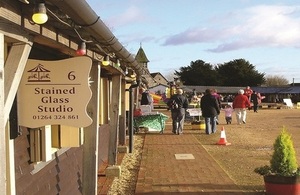 The land on which the Weyhill Fairground Craft & Design Centre CIC is built dates back to the 13th century, and was home to The Weyhill Fair, once the largest and most important sheep fair in the country – horses, pigs, cattle, hops and cheese were also sold. The fair was also the place for the annual hiring of farm workers. In its heyday, it even had a pleasure fair, boxing booth and other entertainments.
After the demise of the fair in 1959, the site was used for agricultural purposes. By 1980 it had fallen into disuse and steadily deteriorated. Test Valley Borough Council had declared the 16 acre area a site for light industrial development.
John Payne, a member of the parish council at Penton Grafton, was determined to restore the land to its former glory. In 2006, he and the parish council fought for the policy to be changed to part small industrial, part housing and part heritage site.
"The parish council restored and redeveloped the land, keeping a lot of the original features such as the booths (open fronted stalls with chalk walls and slated roofs), which were used during the Fair to house the sheep. The centre now houses a variety of high quality craft studios, a gallery, a tea room, chocolatiere, florist and a community hall," says Wendy Atkinson, the centre's only employee.
Because parish councils are not legally allowed to run a business or apply for grants, the steering group had to look at other options, and decided to set the centre up as a CIC.
"The CIC structure provided us with the legal framework and accountability we needed," says Atkinson, "The centre is run by a board of directors but all tenants are members of the CIC and decision making is by mutual agreement through a system of monthly meetings. Income comes from the rents of the studio and retail space we offer, covering the maintenance of the site."
In 2008, the centre revived the Weyhill Fair as the Michaelmas Fair, which is becoming an annual event showcasing traditional country crafts and also celebrating Weyhill's history. Any profits made from the fair go to local charities.
The centre plans to increase its involvement in community projects such as the Fair, interacting with all age groups and backgrounds, and promoting the practice and appreciation of the arts in general.
"The centre was one of the first CICs in existence and we are still going strong. The site is always full and we have a good turnaround of starter businesses setting up, growing and then needing to move to larger premises. It is a successful incubation hub for start-up businesses and this is something to be proud of," says Atkinson.
| | |
| --- | --- |
| Name | Weyhill Fairground Craft and Design Centre |
| Location | Hampshire |
| Company structure | CIC limited by guarantee |
| Founded | September 2007 |
| Community interest statement | The Weyhill Fairground Craft & Design Centre CIC is a vibrant community, offering economic studio and retail space for artists and makers, as well as a gallery, restaurant and a large community hall. |
Find out more about Weyhill Fairground Craft and Design Centre
Published 2 August 2013