Case study
West Cumbria Works: a socio-economic investment project
This support service is helping to break down barriers for west Cumbria's unemployed, and helping them to find work.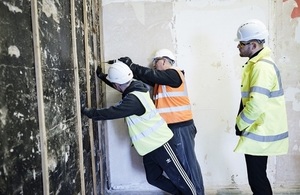 | Nearest NDA site | Duration | Sellafield Ltd contribution |
| --- | --- | --- |
| Sellafield | Approx. 1 year | £194,912 |
West Cumbria Works (WCW) provides support and guidance to improve the skills of local people, particularly the unemployed, together with a brokering service that matches job-seekers with vacancies. Created by Sellafield Ltd, the scheme is backed by businesses in the region, including suppliers to the Sellafield site who collaborate as the Nuclear Community Network.
Outcomes:
Among the recent achievements has been a project to renovate an unused building at Cleator Moor, where candidates carried out the refurbishment work, learning and practising practical skills which subsequently enabled all of the team to secure full-time work.
Since WCW was launched in 2015, more than 1,000 people have been supported, more than 2,000 interactions giving advice and guidance, more than 450 vacancies advertised and 170 people have found employment.
Why was this project important to the community?
The scheme's success is proving particularly valuable for the area's long-term unemployed, reducing benefit dependency, improving mental health and creating a more aspirational culture.
What was involved?
support and guidance to improve skills
brokering service to match job-seekers with vacancies
support offered on tailored one-to-one basis or in groups
increasing knowledge and developing career aspirations for participants
available in all 56 wards of Allerdale and Copeland
targeted support in the 27 most deprived wards
What worked well?
The collaboration involves businesses of all sizes which means a wide range of opportunities in different industry sectors are available, including work experience opportunities, internships and training. The partners also share vacancies and provide materials or financial support for projects.
Sellafield's Decommissioning Delivery Partnership has a social impact principle, requiring suppliers to demonstrate support for local skills and growth objectives. This means that all vacancies are advertised through the WCW as the main recruitment and employability service provider.
Darren Graves said:
I came onto the project having been out of work since 2015 due to ill health. When I was fit enough to return to work I was finding it impossible due a long absence from full time employment on my CV. Not only did the project give me a lift in my self-esteem but also with the all training provided I have been able to update my CV and secure full time permanent employment.
Mark Richardson said:
The training, support and hands -on experience has made me more confident and helped me to do things I never thought possible.
Next steps
The next steps will involve a review of WCW to identify areas that could be improved and seeking additional collaboration with similar support services in the region. Understanding how the scheme can work with all partners will be key to delivering the greatest possible benefits for the local community.
Published 17 April 2018