Case study
Using the PHSKF to conduct a staff skills survey
How Lincolnshire County Council used the Public Health Skills and Knowledge Framework to assess their public health team's professional skills.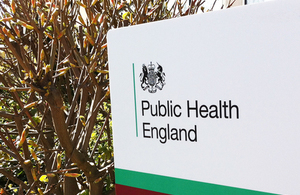 Lincolnshire County Council wanted a better understanding of the skills, knowledge and competencies across the public health team to enable them to identify strengths and gaps, and to prioritise the development of the right skills in their current and future workforce.
The public health team already had in place an annual continuing professional development (CPD) programme of training and learning opportunities that all staff were encouraged to access. However, they needed a detailed skills survey to make the best use of these opportunities.
The solution
The team designed a skills survey based on insight from Fit for the Future (PHE report 2016) and through the application of the PHSKF.
The survey took the form of a self assessment. All staff were asked about their skills and knowledge framed around the PHSKF and using the prefix "I am able to…." across the 13 functions within the framework. For example:
A1: measure, monitor and report population health and wellbeing; health needs; risks; inequalities; and use of services
A1.1: identify data needs and obtain, verify and organise that data and information
Staff self-assessed themselves against each statement across a number of areas:
current skill or knowledge level
what level they feel they should be at for their job role
do they need this skill or knowledge for their job
if not, would they like to gain more knowledge of this
would they like an opportunity to put these skills/knowledge into practice
Staff were asked to score each of the statements from 1 to 4 (1 for the skill not being required to 4 denoting expert, specialist or advanced skill level and experience).
Following a 93% response rate to the survey, a rich picture of the skills and knowledge of the whole team emerged, identifying strengths as well as areas for skills development, and this has helped to identify what is needed for future recruitment and staff development. All staff received an individualised radar (spider) graph showing their current level of skills and knowledge across all areas of the PHSKF, compared to their desired or required level.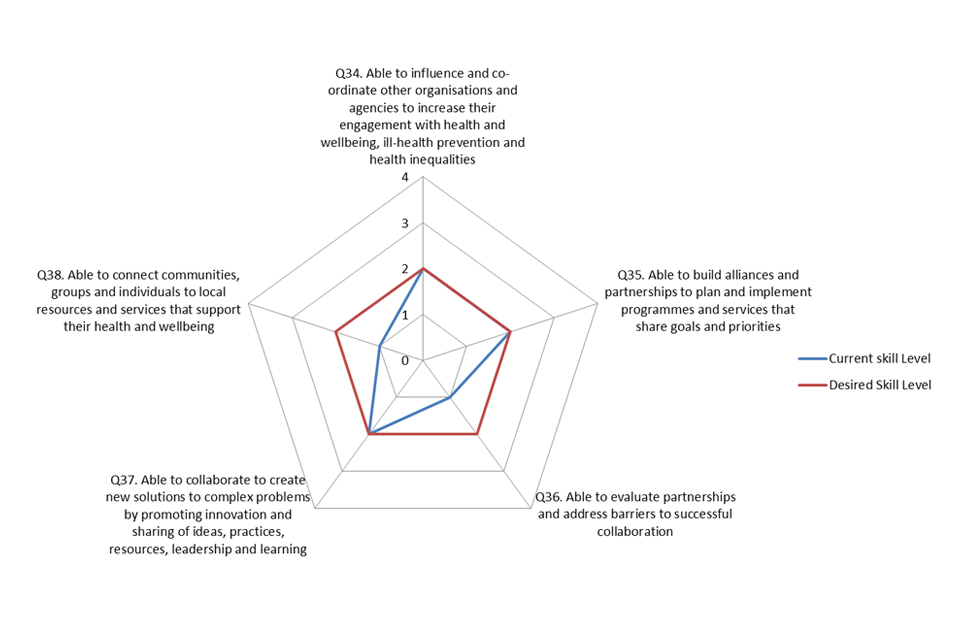 The challenges
Given the amount of information required from colleagues, the survey was lengthy - with approximately 100 self-assessment statements/fields to consider, and took approximately an hour to complete.
To increase levels of engagement with the survey, the team ensured that their colleagues:
understood the rationale and benefits for completing the survey with clear guidance on how to do it
were given a 4-week window to complete the exercise
were able to save and retrieve a partially completed survey
received clear and consistent messages from the director and senior management team, who were committed to the exercise
recognised that the exercise would support their development and learning, with the production of individual profiles that would be used in PDP planning, appraisals, and career discussions
The outcome
Since implementing this evidence-based approach to workforce planning, the team has been able to:
embed the PHSKF in their appraisal and PDP processes
ensure training 'offers' are targeted and responsive, making best-use of training and development budgets
develop a public health training and CPD programme for 2018 to 2019, including staff skill sharing sessions built around staff strengths
support their senior management team in workforce sustainability or contingency planning
support career progression pathways for staff by mapping and identifying skills against the PHSKF
The future
The team plans to:
repeat the survey bi-annually to test the effectiveness of the training and CPD programme
progressively map public health job descriptions to the PHSKF, bringing rigour, consistency and objectivity to the process
map their training or CPD offer to the PHSKF to target learning provision where it is needed to build capacity
set up an internal assurance process to track progress, demonstrate impact, and ensure that the insight it provides is fully utilised
engage in the further development of the PHSKF through the digital development work being led by PHE
Contact us to learn more
Public Health Lincolnshire supports collaborative working and knowledge-sharing, and are willing to share more detailed information regarding the methodology and survey design, and resources they have developed with others.
You can contact the PHSKF programme team via sp-phskf@phe.gov.uk.
Published 25 May 2018