Case study
"This scholarship will allow me to pursue my dream of becoming a doctor and support my family"
How UK aid is improving girls' lives in Pakistan by helping them gain a higher education and empowering them to pursue careers.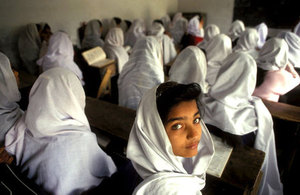 Aimen, 15, lives in a village in district Dera Ghazi Khan, Pakistan. She is one of 7,500 girls across 11 of the poorest districts in southern Punjab to receive scholarships funded by UK aid from the Department for International Development (DFID) this year to complete their intermediate education (A' Levels equivalent).
Nearly half of Pakistan's female population have not been to school, while two thirds of the 60 million women of working age cannot read or write. In addition, more than 9 million girls do not go to school in Pakistan.
A passion for learning
Aimen is the eldest of 3 siblings. Her father is the family's sole breadwinner – he works as a labourer and earns Rs 300 a day (approximately £1.50).
"My father's income was barely enough to cover household expenses, let alone the added burden of education. But despite the financial constraints, my parents were very passionate about us pursuing education for as long as possible – because they didn't want their children missing out on something so wonderful."
Aimen was an exceptional and hardworking student and was consistently among the top performers in her class – a trend that continued through to Matric (GCSE equivalent) – where she finished among the top students in the district.
"Gradually I became more and more interested in my studies and eventually excelled beyond everyone's expectations. In the process I became the first person in my family to complete matriculation. However, once the initial excitement had subsided, it became apparent that continuing my studies further would require some sort of miracle," Aimen said.
"School had become such an integral part of my life by this time that I couldn't imagine not going. And the subjects had started becoming more interesting as well. I was determined to keep on going. Then one morning, the answer arrived," she added.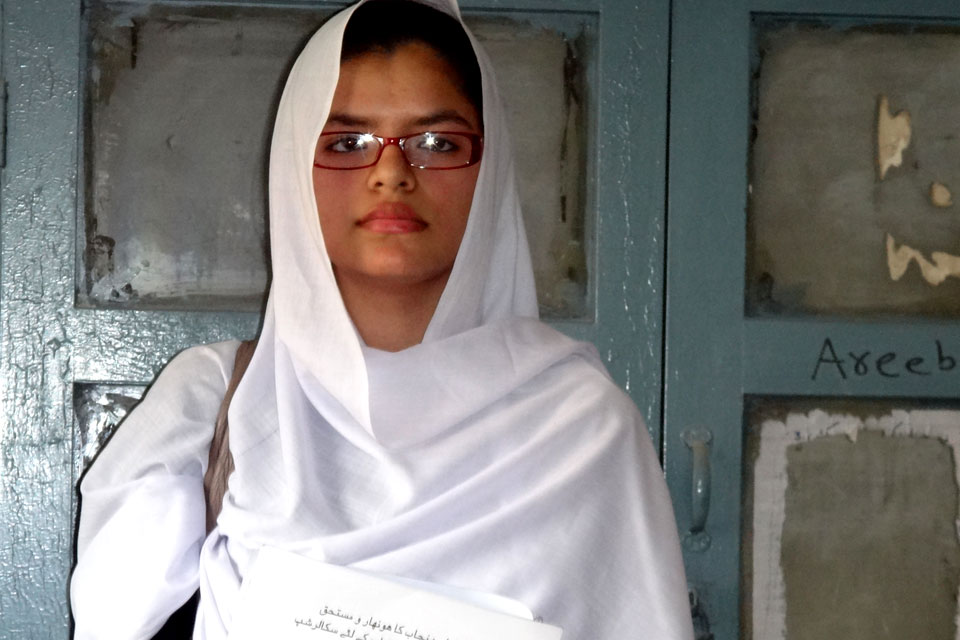 New opportunities
Aimen received a letter from the Punjab Education Endowment Fund (PEEF), an initiative undertaken by the government of Punjab that began in 2008, encouraging her to apply for a scholarship. These scholarships, funded by the UK, will help 27,500 girls continue their education over the next 6 years. The programme aims to provide scholarships to high performing girls from under-privileged backgrounds so that they have the opportunity to continue their education despite financial constraints.
After a comprehensive application process, involving stringent financial and background checks, Aimen was selected for the scholarship.
"This scholarship will help me continue my education by covering the costs for books, fees and transportation and ease the financial burden on my family. And it will allow me to pursue my dream of becoming a doctor and support my family financially."
Students are selected for two-year scholarships and receive stipends of up to Rs 3,000 per month, (approximately £17). The stipends are transferred by electronic payments directly to the students and not lost to corruption.
Facts & stats
Education is beneficial for girls since each extra year of schooling can help increase their wages by up to 20%. Girls who attend secondary school are also likely to marry later and have fewer children.
The UK is working closely with provincial governments and partners on ambitious plans and innovative approaches which will help benefit 4 million of the most deprived children across Pakistan – half of whom will be girls - by the end of 2015.
Investing in girls and women is transformational – for their family, their community, and for the country. Women invest nearly all the money they earn back into their family to educate and feed their children, breaking the cycle of intergenerational poverty.
Published 28 March 2014