The Dream Team: how health workers reach the remote in Indonesia
The Indonesian government is working to improve healthcare services to people living in remote islands by sending medical help through professionals and advocates.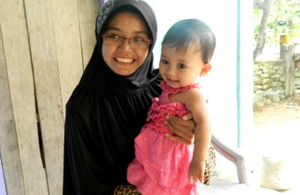 Mother-of-four Santi, 32, lives in a remote village in the Indonesian Archipelago. Until a year ago, she had never visited a health clinic, but thanks to the Pencerah Nusantara programme she now has the healthcare her family desperately needs.
Pencerah Nusantara means the 'Guiding Lights of the Archipelago' and is an initiative by the Indonesian government to save lives and improve health by sending groups of medical professionals and advocates to some of the most remote islands.
Lack of access to adequate health facilities has contributed to high maternal mortality rates and the main cause of death in these areas is haemorrhage and infections - often preventable if a trained medical worker is present.
The dream team
The Pencerah Nusantara healthcare teams include a doctor, nurse, midwife, and public health worker who work with communities and local governments to address the needs of women and their families.
Video: Pencerah Nusantara - An initiative by the Indonesian government to save lives and improve health Pencerah Nusantara - An initiative by the Indonesian government to save lives and improve health
Wanting the best for her children
When Santi met the Pencerah Nusantara healthcare team for the first time, her daughters were pale and thin. Intan, the public health worker, explained the importance of bringing children, especially those under 5 years old, to the clinic. She talked to her about their growth and development, and the importance of vaccines to prevent diseases. After several consultations, Santi started to bring her baby daughter Cerah Kamila, her older brother and also neighbours with little children to the medical facility.
Now, Santi comes regularly to the clinic every month. She understands the role of nutrition in ensuring physical growth and overall development of her children. And, she takes part in family planning because she wants her children to be brought up with her best care and attention.
"We are so lucky that the Pencerah Nusantara team is in Ogotua. People in other sub-districts are not as lucky as us. Pencerah Nusantara helped our Puskesmas [Primary Healthcare Center] to provide a health service that reaches remote areas like our village," says Santi. "I'll always remember the times Intan and I spent together, when she taught me about the importance of exclusive breastfeeding."
Misleading myths
Education levels are low in the hard to reach regions and many village myths – especially about childbirth - dominate communities.
Saripah, who lives in a remote village on Simatang island was married off at the age of 14 to Saripuding, a young man only a year older than her. She gave birth to 7 children by herself. It was only after a baby was born that a shaman would be called to cut the umbilical cord with a "sembilu", a blade made of split bamboo, and to bathe the newborn baby.
"Nobody knew I was giving birth because I didn't make a sound. It is very taboo for us to make a sound, let alone scream," explains Saripah.
When Saripah met the Pencerah Nusantara team during a mobile clinic she was pregnant with her eighth child. Although Saripah knew about Indonesia's childbirth insurance which would waive the midwife's fee, she always chose to give birth in her own home by herself rather than travel to a healthcare facility.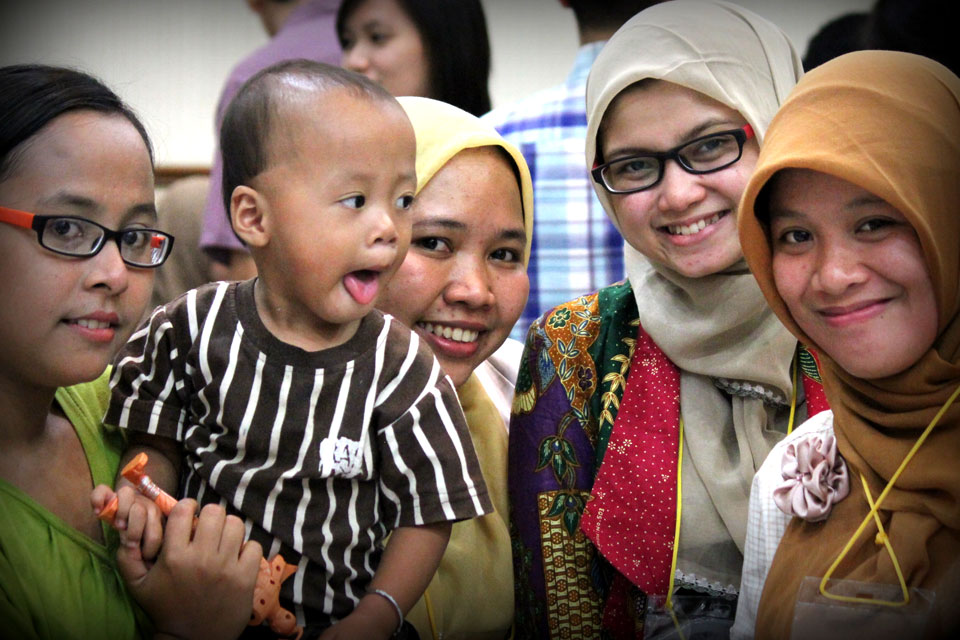 Safe births for mothers
The Pencerah Nusantara healthcare team help to dispel myths and provide essential health services in hard to reach areas so that everyone has access. In Saripah's community the programme has set up a partnership between the midwives and the shamans to make sure mothers give birth safely. The shamans have been trained to support the team's work, learning how to provide the necessary basic assistance for expecting and nursing mothers.
Several halfway houses have also been created by community members lending a room in their house. These halfway houses are managed by the midwives, who provide health consultations, immunisation, as well as family planning at least once a week.
With the help of these dream teams, lives are being saved and women like Santi and Saripah are finally accessing the vital health services they need.
Facts and stats
Since 1990, the global child mortality rate has dropped by 41% - that's 14,000 fewer children dying every day.
In Eastern and Southern Asia and Northern Africa, maternal mortality has declined by around two thirds.
The maternal mortality ratio in developing regions is still 15 times higher than in developed regions though.
By 2020, 50 million girls will be married before 15 - yet girls under 15 are 5 times more likely to die from maternal causes, and infant mortality is 50% more likely when the mother is aged below 20.
---
UK aid and USAID are hosting an event, MDG Countdown 2013, on Tuesday 24 September during the UN General Assembly in New York, to showcase how girls and women are a force for change in helping the world achieve the Millennium Development Goals.
Published 20 September 2013