Case study
Her own boss: giving hope to the poorest women in Bangladesh
How UK support to BRAC is helping the poorest and most vulnerable women improve their lives in rural Bangladesh.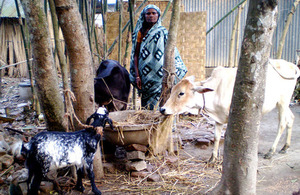 Amina, 59, from Faridpur region is a rarity in Bangladesh - she owns her own grocery shop, a plant nursery and some livestock. She manages her own small business thanks to a programme supported by the UK and other donors.
Things haven't always been rosy for Amina. When she got married she discovered her husband had 4 other wives and they were all living in extreme poverty. So she decided to return to her village to eke out a living working at the local brickworks where she earned around 30 taka – the equivalent of 25p per day.
Targeting Ultra Poor Programme
Green shoots
Life took a turn for the better in 2009 when Amina was selected for BRAC's Targeting the Ultra Poor (TUP) programme. BRAC is a development organisation dedicated to alleviate poverty by empowering the poor, and helping them to bring about positive changes in their lives.
Through the TUP programme Amina was provided a small amount of leased land and training in seed cultivation, basic health such as family planning, water born disease, food hygiene and education in literacy and numeracy skills. She capitalised on these skills and went on to run a successful nursery business selling fruit saplings like mango, jackfruit, guava and also different vegetables and spinach.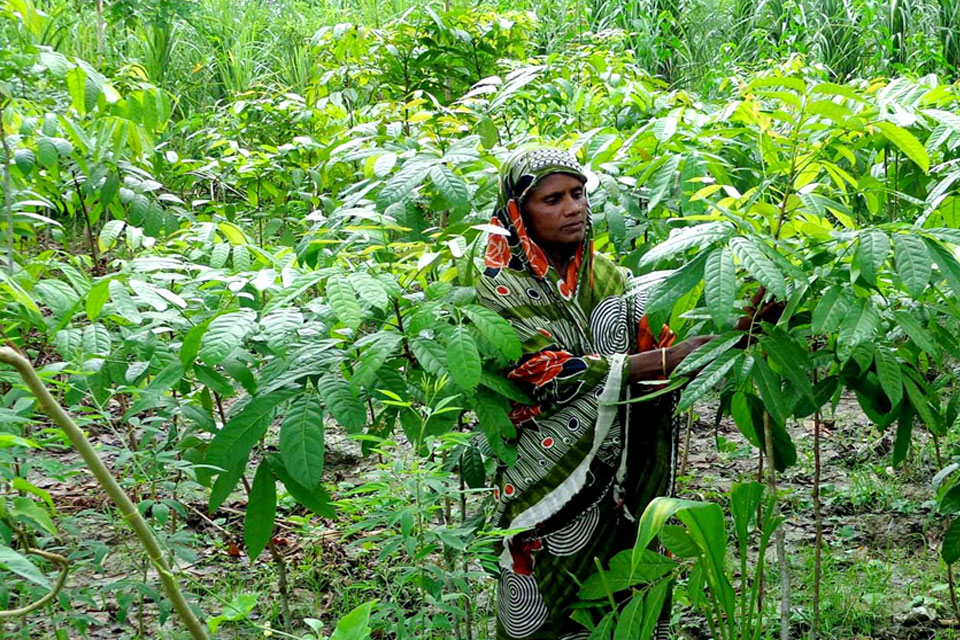 Amina reinvested her profits from the nursery business in more opportunities, and she purchased a cow and goat after taking advice from BRAC. This assisted her to make enough money to set up a grocery shop, selling produce from the nursery and milk from the animals. Now all 3 businesses contribute to the family income.
"Now I know how to do all the tasks - sowing seeds, then medicine, then water, then fertilizer. Whatever is necessary, I can do it," says Amina.
She regained her confidence by owning and managing a growing number of assets. Amina has drastically improved the financial and social status of her family. The number of animals she owns has expanded and she is able to provide food, and afford much needed health care.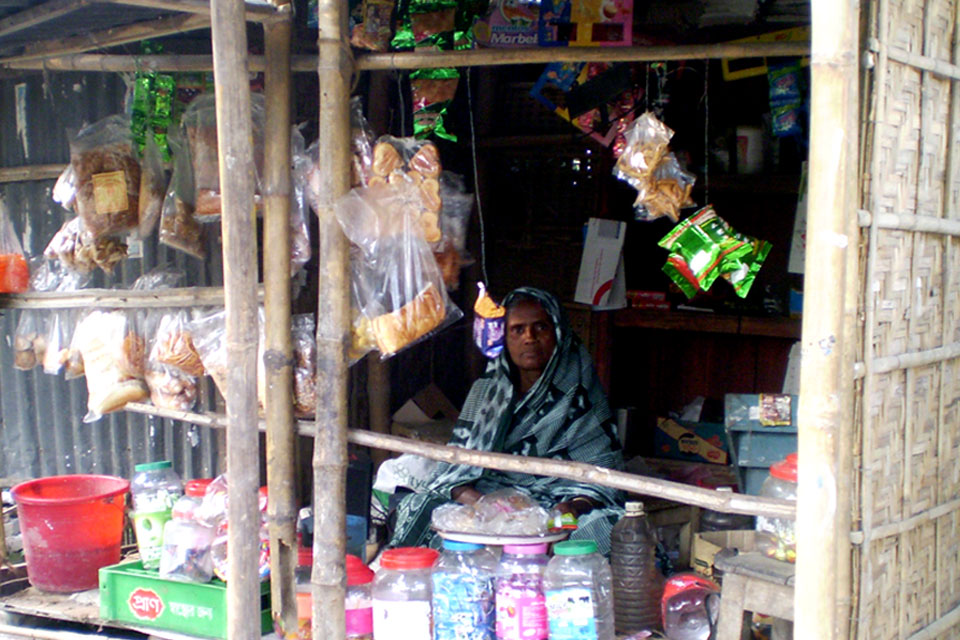 Helping women to work their way out of poverty
Many women like Amina are transforming their lives with help from BRAC's Targeting the Ultra Poor programme. The programme, which is aimed at vulnerable women, works with them to help improve their social and economic situation. During the last 11 years, over 400,000 women-led households in extreme poverty have seen their livelihoods improve through the initiative.
The programme assists women to create their own businesses, learn key business skills and increase their confidence. It also encourages community engagement - an important aspect of the programme. Women are able to graduate from the scheme once they have a stable income and can provide for their family.
Stats and facts
Targeting the Ultra Poor (TUP) programme has produced fantastic results. Overall 95% of the women have graduated from the scheme and 98% now have cash savings.
More women own successful businesses, more school aged children are going to school, community participation has increased and women have experienced increased social status in the village. From 2002 to 2008:
households living in tin-roofed houses rather than a roof made of straw and leaves increased from 44% to 94%.
households with a cow or bull increased from 3% to 77%
households with a goat or sheep increased from 6% to 34%
households with poultry increased from 33% to 63%
and households with cash savings increased from 8% to 98%.
The programme is running throughout Bangladesh and the model has been replicated by governments and NGOs in 9 countries including Ethiopia, Honduras, Peru, Yemen, India, Canada, Pakistan, Afghanistan and Haiti. Currently, the model is also being rolled out in South Sudan.
The UK Department for International Development (DFID) is the largest donor for the Targeting the Ultra Poor (TUP) programme. DFID has been part of a consortium supporting the programme for the last 9 years, alongside AusAID, the European Commission, CIDA, Oxfam Novib and Unilever Group.
---
MDG Countdown 2013
UK aid and USAID are hosting an event, MDG Countdown 2013, on Tuesday 24 September during the UN General Assembly in New York, to showcase how girls and women are a force for change in helping the world achieve the Millennium Development Goals.
---
Related links
What we do: Improving the lives of girls and women in the world's poorest countries
Brac programme lifting 'ultra-poor' out of poverty in Bangladesh
Published 16 September 2013