Case study
Success story: F1 technology finds a way into buses and diggers
Innovate UK funding helps Flybrid founders turn kinetic energy automotive innovation into a £26 million business in just eight years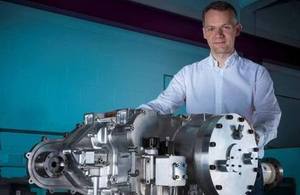 Being a member of the Renault Formula 1 team that won back-to-back championships in 2006 and 2007 taught Doug Cross rather a lot about extracting maximum return from investment.
"Our little group based in England had 3% of the budget and must have supplied a third of the horsepower," recalled Doug, with more than a hint of satisfaction.
He had formed a productive pit lane partnership with Renault F1's technical director for engines, Jon Hilton. But when the sport 'froze' engine development at the end of 2006, the pair knew they would soon be out of a job.
So they set up their own venture, Flybrid Systems, at the Silverstone Park Innovation Centre to exploit the potential of kinetic energy recapture systems (KERS), especially in fuel-saving applications.
In January 2014, when the two co-founders completed a takeover deal with Torotrak Group, the business employed 22 staff and was valued at £26 million.
Jon is on the Torotrak board as a non-executive director and Deputy Chairman, while Doug is group Chief Technical Officer.
Carbon footprint
Between Torotrak's main site in Leyland, Lancashire, and a design and prototype facility at Silverstone, there are more than 70 staff working on bringing Flybrid KERS and other low carbon vehicle technologies to market, with opportunities in road, rail and off-highway vehicles.
For instance, JCB and Flybrid will receive £3.3 million in grants from Innovate UK as part of a £7.3 million Advanced Propulsion Centre project to reduce the carbon footprint of excavators.
We had begun with a 3 to 5 year plan, including an exit strategy" said Doug. "If someone had told me it would take nearly 10 years, I'm not sure we would have started!
Honda had been their first customer as KERS was being readied for F1, but they pulled out of the sport before using the system in anger. However, the pair could already see applications for their hybrid flywheel technology in less exotic vehicles, such as buses and excavators.
The Flybrid technology comprises a flywheel connected to the wheels by a compact clutched flywheel transmission (CFT). Bus journeys, with regular stops and starts, are particularly suited to storing and releasing kinetic energy, which would otherwise be dissipated as heat – and wasted.
Patents protect several key inventions that allow a very much smaller and lighter flywheel to spin at more than 60,000rpm. Gyroscopic forces are insignificant.
"Any change in speed is a change in kinetic energy," explained Doug. "Therefore we have a chance to capture – and release – kinetic energy, and that saves fuel."
Flywheel hybrid midibus
Jaguar Land Rover led the first Innovate UK-funded project in 2008, providing a Jaguar XF saloon as a test-bed. The total project cost was £3.3 million, and Flybrid was awarded £73,000 towards their £101,000 costs. Doug has no doubt of the benefit of this kind of collaborative R&D support.
A two-year collaborative R&D project, begun in 2012 under Innovate UK's Low Carbon Vehicles Programme, involved Flybrid with Wrightbus, Arriva Bus & Coach, Voith Turbo and Productiv. It targeted a 15% reduction in fuel consumption in a production-ready flywheel hybrid midibus and Flybrid received £73,000 of the total funding of £700,000.
"We have been developing Flywheel KERS for more than 8 and a half years," says Doug. "That's why today, you can ride on a single-decker bus in Kent that's got one of our products in it."
With £93,000 from Innovate UK, Flybrid's expertise is also helping another consortium look into the fundamental science, applied engineering knowledge and safety-critical processes around composite flywheel energy storage systems.
Doug adds: "A number of Innovate UK programmes have been tremendously supportive to the business at different stages, especially in de-risking the technology development.
"Success is an iceberg. You never see the 80% of what it took to get there – the financial difficulties, the disappointments, all of the investment in time, emotionally and financially. The last eight and a half years have been a fantastic learning experience, though."
You can discover more about Flybrid at CENEX LCV 2015, where Innovate UK will be showcasing the best of British automotive innovation. This year's show is convening the UK's next generation of low carbon, intelligent vehicles and the British-based technology bringing them to life.
Published 6 August 2015