Case study
Scrabster Harbour (Caithness)
The NDA's financial contribution helped Scrabster Harbour Trust secure additional funding from other sources to invest £20 million in developing its facilities.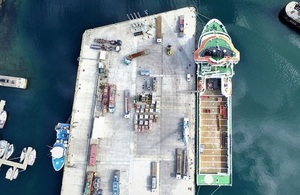 | Nearest NDA site | Duration | Total investment | NDA contribution | Partners | Delivered by |
| --- | --- | --- | --- | --- | --- |
| Dounreay | 2010 onwards | £20 million over the last 10 years, heading for total of £40 million | £2 million initial investment plus a further £1.14 million on an ice plant and harbour safety boat that supports larger vessels needing to berth in difficult conditions. | Scrabster Harbour Trust, Caithness and North Sutherland Regeneration Partnership, Highlands and Islands Enterprise, and Scottish Government (through both ERDF and EFF funds) | Scrabster Harbour Trust |
Outcome:
record revenues for the Harbour Trust in each of the last 3 financial years
68% growth in commercial vessel tonnage since 2013
record oil and gas related vessel activity and tonnage in 2016-17
Involvement in nationally significant projects such as the first tidal energy array in the Pentland Firth
greater economic impacts on the local and regional economy
the harbour supports over 403 FTE jobs compared to 339 in 2009
the Gross Value Added (GVA is the additional value created within Caithness as reflected in wages to employees and profits to company owners) to the Caithness economy is measured at £25 million compared to £14.6 million in 2009
the gross wages/salaries associated with activities supported at the harbour have risen from £6.2 million to £10.3 million
total output of the harbour has risen to £48.2 million
Scrabster Harbour - May 2017 update
Scrabster Harbour Economic Impact Assesment 2016
Perched at the northern tip of Scotland, Scrabster is ideally located to take advantage of growing North Sea oil and gas activities west of the Shetland Islands, as well as the more recent drive to harness marine energy from the strong tidal waters of the Pentland Firth.
The port has provided a safe anchorage since Viking days, but recent infrastructure improvements have capitalised on the port's strategic location to meet the needs of number of marine industries.
Scrabster is already Number 4 in the UK for landing produce such as whitefish and shellfish. More than 1,000 fishing vessels use the year-round facilities annually, landing catches valued at more than £32 million. Cruise ships, commercial cargo vessels and ferries also call in regularly, carrying goods and visitors from around the world.
In 2007, the Scrabster Harbour Trust found itself in a position to consider an investment programme and its approach to the NDA yielded a £2 million contribution. This, together with the formation of the Caithness and North Sutherland Regeneration Partnership, became the catalyst to leverage match funding from other sources. The Trust was able to embark on an ambitious development spanning more than a decade and building on previous developments.
Around £20 million has been spent, in the last decade, expanding the port's commercial infrastructure, boosting the local economy and creating jobs. The total investment is set to reach more than £40 million.
Trust Manager Sandy Mackie said:
The NDA's role was pivotal in helping us to draw in additional funding from other sources, and their continued support is extremely welcome.

We were keen that any development should serve both the port and the community, especially in light of Dounreay's decommissioning. The recent independent Economic Impact Assessment highlights that the economic significance of Scrabster Harbour has greatly increased. This is due in part to the improvements in infrastructure and facilities.
The Trust, established by Act of Parliament in 1841, re-invests all profits in the harbour and draws its members from the local community, especially businesses.
Support for the overall development programme is wide-ranging, with partners from the public sector and Scrabster's own funds.
The NDA's initial investment supported redevelopment of an old fishing pier into the Jubilee Quay which provides increased quayside space, improved access, heavy lift facilities and services required by the oil and gas sector and other commercial vessels. The combination of improved infrastructure and close proximity to installations west of Shetland provides oil and gas operators with a fast turnaround option, saving time and money.
With some of the strongest tides in the world, the Pentland Firth provides unique opportunities for marine renewable energy industries to flourish, potentially placing Caithness at the leading edge of tidal developments, while stimulating regional growth. Early signs of this were seen recently when giant steel weights, to be used as anchors for the first tidal arrays, were moved to sea via Scrabster, after being fabricated by a nearby Caithness company.
Unusually for the north of Scotland where weather and sea conditions can be harsh, Scrabster offers access to the port 24/7, 365 days a year.
Earlier in 2017, the NDA and Scottish Government contributed £685,000 towards a £1 million plant providing ice for fishing boats, and protecting the quality of their catches. The energy-efficient plant replaces an old one that closed after operating for 30 years, and ensures a reliable, fit-for-purpose supply of ice essential to maintaining Scrabster as a key fishing centre.
Current plans include:
creation of a business/industrial park near the harbour
redevelopment of a further deep-water pier, St Ola, which will target the energy and cruise ship markets
seabed reclamation south of the main harbour to create additional laydown space or industrial land
The plans are aimed at connecting local businesses to future opportunities and attracting new investment in the area. Scrabster has become a key economic hub in the north of Scotland.
Published 23 March 2018