Case study
Mexico's 'war on drugs'
A case study on Mexico's 'war on drugs' from the 2013 Human Rights and Democracy Report.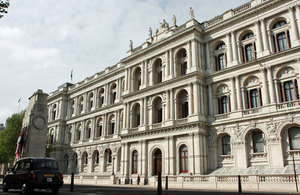 Since 2007, over 70,000 people have been reported killed and a further 26,000 disappeared in Mexico as a result of violence linked to organised crime.
During 2013, the Mexican government took steps to address this problem. We have raised this issue with Mexico via the UN Human Rights Council (UNHRC). In response to accusations of military involvement in human rights violations, the government announced the creation of a Gendarmerie, to be made up of former members of the military who have been trained in community policing and human rights. The Gendarmerie is to replace the policing role of the military in the fight against organised crime. It was partially introduced in seven municipalities in December, and is expected to be fully operational by summer 2014, although likely in a modified form to the original proposals. The government has also established a special prosecutor's unit to investigate disappearances, and has passed a law better to assist and protect victims of crime, including victims of human rights violations. However, ongoing impunity for killings and disappearances is of real concern, as demonstrated by a number of recommendations, including by the UK, made during Mexico's Universal Periodic Review at the UNHRC in October.
Civil society and the families of victims are doing important work on this issue, and the British Embassy in Mexico is supporting them in this. Through the FCO's Human Rights and Democracy Programme Fund, the Embassy helped Ciudadanos en Apoyo a los Derechos Humanos (Citizens in Support of Human Rights, or CADHAC) with funding of £84,155 in their efforts to strengthen criminal prosecution and judicial processes in the northern state of Nuevo León, where the majority of enforced disappearances are alleged to have happened.
As a result of this project, the legal framework to address enforced disappearances has been strengthened and access to justice improved. CADHAC's work with political parties, civil society and other victims' groups was also instrumental in the creation of an innovative victims' law which provides for judicial remedies, medical support and economic compensation. This new legislation was passed in October, and enshrines in law the rights of victims, including indirect victims such as the family of a murdered or disappeared person, from the moment the crime occurs until a satisfactory resolution of the case. It is intended to improve transparency, providing for freedom of information, and removing barriers to justice. It also provides for the establishment of a fund to compensate victims, overseen by CADHAC and a number of other civil society organisations.
Published 10 April 2014