Livelihoods protected and lives rebuilt
UK aid is at work in Burma, supporting families and protecting livelihoods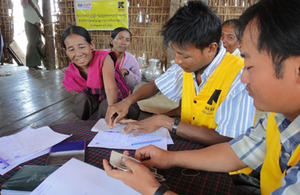 Cyclone Giri hit Rakhine State, Burma, on 22 October 2010, bringing high winds, tidal surges, heavy rains and flooding, and leaving 260,000 people in need of emergency assistance.
Myebon township was 1 of the most severely affected areas, with the storm causing great damage to farmland and homes, as well as essential infrastructure like bridges, roads, health facilities and schools.
Helping those hit hardest
U Aung Kyaw Thein is a farmer in the township and owns 8 acres of paddy field. Since the rice harvest lasts only part of the year, he also works as a casual labourer to help make ends meet.
When Cyclone Giri hit, it destroyed the embankments that protect farmland from the sea. U Aung's paddy field was contaminated by saline water, reducing his yield for the season. Providing for his family became increasingly difficult and he was considering selling his buffalo to buy food and to get his rice farming back on track.
However, thanks to an International Rescue Committee (IRC) project, funded by UK aid provided through DFID, U Aung was able to get back on his feet: "Through the opportunity provided by IRC, three members of family were able to work and receive a steady income for several days. This meant that we didn't need to sell our buffalo. We are very grateful for that".
With the money they earned, U Aung's family was also able to buy a sufficient amount of rice for food.
Livelihood projects aid recovery
IRC manages a livelihood project in Myebon giving community members vital agricultural and fishing equipment, as well as distributing much-needed cash through cash-for-work programmes. In this way, the IRC has helped cyclone-affected communities to rebuild and recover.
The temporary employment provided by the livelihood project is supporting self-help initiatives and increases households' purchasing power, as well as creating a 'multiplier effect' in the community, as people use their income to purchase goods and services locally. This means that cash-for-work programmes benefit entire communities.
With an increase in income, community members can afford to rebuild their homes and pay for essential items such as medicine, transport, and textbooks and uniforms for school.
Villagers choose
The people in Myebon villages selected the rebuilding of the paddy embankments themselves as the highest priority project for the area. The reconstruction not only provided them with short-term income, but also increased the amount of arable land available to use - both for this rainy season and for the future.
To ensure that people of all ages and abilities had the opportunity to benefit from these work activities, the number of working hours was the same for everyone: 6. Additionally, all workers earn the same amount: MMK 2,000 per day. Those unable to do physical work were given the lighter tasks, such as measuring or record-keeping. This meant even the most vulnerable were included in cash-for-work activities.
Many people, particularly women, have said that they appreciate this opportunity to earn an income. In Kyauk Nga Nwa village, for example, Daw Than Yin's family took part and were able to earn a total of MMK 250,000 - enough to reconstruct her house: "I did not expect I could ever rebuild my house. Now my family and I can live in a proper house, thanks to the donor".
Through projects like these, UK aid is ensuring that people affected by natural disasters can quickly regain the means to support themselves and their families, and restore their livelihoods.
Facts and stats
52,000 households in Burma needed emergency assistance following the cyclone
IRC work was part of a DFID response to the cyclone and has repaired embankments, using cash for work, to ensure that over 29,000 acres of agricultural land is available for cultivation
International and Burmese NGOs have supplied seeds, fertiliser and tools (in cash, or in kind) that have enabled around 7000 farmers to plant rice during the current rainy season
NGOs will also replace the fishing boats and nets that were destroyed or damaged by Cyclone Giri, allowing up to 2000 households to resume fishing after the rainy season
Cash-for-work programmes benefit whole communities - the IRC team has seen how earnings are used to buy goods locally
Published 12 October 2011