HiETA: lightweight heat recovery technology through 3D printing
Innovate UK-funded projects pave the way for additive manufacturing firm to go into full production for automotive customers.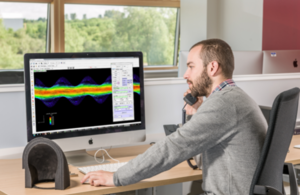 Pioneering additive manufacturing firm HiETA Technologies is preparing to go into full production at Bristol and Bath Science Park with a range of high-efficiency compact heat exchangers and turbomachinery products, including an ultra-lightweight heat exchanger for cooling exhaust gases.
The air-to-liquid heat transfer device, manufactured from nickel superalloy Inconel 625 through a highly advanced form of '3D printing', has been designed in-house for a range of automotive applications.
That includes a novel waste heat recovery system that can generate up to 5kW of power from the exhaust stream of a conventional engine and could deliver up to 5% in fuel savings across a drive cycle. An Innovate UK grant helped to fund its development.
HiETA, founded in 2011, now employs 30 experienced, highly-skilled engineers. It is currently expanding its manufacturing facilities at the Science Park, ready to scale-up production.
An industry leader in additive manufacturing
The company designs, develops and manufactures thermal management and light-weighting products for the aerospace, defence, automotive and clean energy sectors using a process called selective laser melting.
Supported by grant funding from a series of Innovate UK projects, HiETA has emerged as an industry leader in additive manufacturing.
Ben Farmer, strategy and programme lead at HiETA, said:
These interventions have been key to HiETA moving from a single hot-desk to a design and manufacturing facility with 35 people in all.
First commercially available products
Additive manufacturing uses digital 3D design data to build up components layer by layer, out of fine powder forms of metal, plastic and composite materials. Ben added:
Additive manufacturing offers real benefits to our clients and partners including reduced lead-time and increased performance. It allows us to develop more compact and efficient product solutions than conventional manufacturing techniques.
HiETA's first notable Innovate UK project saw the firm receive £182,000 as a partner on the MicroTurbine Range Extender (MiTRE) project, led by Delta Motorsport.
It proved that additive manufacturing could produce a heat exchanger 20% smaller and lighter than those already available on the market. It has become one of HiETA's first commercially available products.
Lower costs, better productivity and higher quality
MiTRE led into the High-efficiency END-to-end (HiEND) project involving world-leading engineering company Renishaw. It achieved a reduction in additive manufacturing costs.
HiETA's combined its expertise on waste heat recovery systems with collaborative research and development (R&D) on micro gas turbines while 2current live Innovate UK projects (TACDAM and MAMVA) are addressing issues in the additive manufacturing value chain to deliver ten-fold reductions in unit cost in the next 3 years.
Published 25 August 2017