Case study
Delta Motorsport: low carbon technologies help business to grow
High performance engineering business has grown from 8 to 20 on the back of its research and development of low carbon technologies.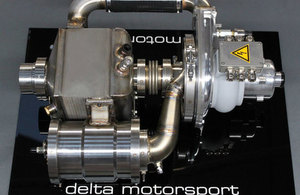 Charger boosts market appeal of electric vehicles
Delta Motorsport: micro-turbine charger boosts market appeal of electric vehicles
Specialist in low carbon vehicle technologies Delta Motorsport has grown its business and is partnering with major names in the motor industry thanks to its innovative technologies.
The Silverstone-based company developed the MiTRE (Micro Turbine Range Extender) with Innovate UK support. This small, lightweight turbine feeds the vehicle's battery via a generator, slowing power drain and helping electric vehicles match petrol and diesel equivalents for range.
Leading niche sports car manufacturers Morgan and Ariel will feature the MiTRE in follow-on research and development projects from 2017.
Delta technology attracts wide interest
Delta also worked on Jaguar Land Rover's Evoque E project and is talking to other potential users of its technology, with interest from the defence sector, marine sector and a major Chinese vehicle manufacturer.
Delta is now developing a 35kW device for larger vehicles through the Innovate UK-supported HIPERCAR (high performance carbon reduction sports car) programme. Delta has grown from 8 staff to more than 20 and expects to expand even more.
Published 25 October 2016