Case study
Taranto: R&D helps business save £100,000 and attract customers
Partnership helps firm to produce its own cost-effective, energy-efficient concrete and quadruple profits in 3 years.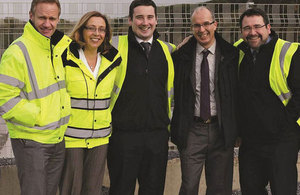 Concrete specialist Taranto quadrupled its profits, cut costs by 25% and reduced energy use by 30% after taking part in a Knowledge Transfer Partnership.
The business worked with with Queen's University Belfast to develop in-house knowledge of concrete mix design. Now it can test and optimise locally sourced aggregates to produce its own cost-effective, energy-efficient concrete.
The decision to invest in research and development at a time of economic downturn in Northern Ireland's construction industry increased both the profit margins and the number of customers for its concrete products.
Taranto saved £100,000 in the project's first year through optimising the mix design and introducing a high-performance, less labour-intensive concrete.
Research made new products possible
This made new products possible, including pre-stressed concrete piles, a novel vaulted floor system, and SureFound: a BBA-accredited pre-cast concrete foundation system.
These have enabled Taranto to enter new markets and attract new clients across the UK and Ireland, including a multi-million pound project in Wednesbury, Birmingham.
Taranto has since begun another three-year KTP to develop another aspect of the business.
Published 25 October 2016