Haiti – one year on: safer shelter is ACTED upon
How UK aid is helping to get people back into their homes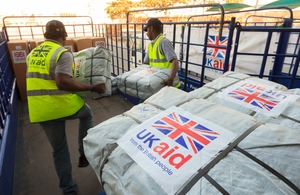 Around 190,000 buildings were destroyed or damaged beyond repair as a result of the earthquake that struck Haiti on 12 January 2010. But identifying buildings that are still structurally sound is an important element in the process of getting people out of emergency shelter and back into more robust accommodation.
Since September 2010, UKaid from the Department for International Development has helped the international NGO ACTED (Agency for Technical Co-operation in Development) to structurally assess over 14,500 damaged buildings in the towns of Leogane and Grand Goave, as part of the Safer Shelter Strategy.
ACTED's project aimed to address the following specific problems:
a lack of financial and material resources amongst displaced families, preventing them from repairing their homes
insufficient information on the status of damaged houses in earthquake-affected areas for the humanitarian community to assess precisely the level of support required.
The structural assessments are carried out by trained ACTED engineers working in conjunction with the Haitian Ministry of Public Works, Transport and Communication (MTPTC). Once assessed, buildings are marked with a spray-painted green 'tick' (structurally sound), a yellow circle (damaged but repairable) or a red cross (dangerous, structurally unsafe). It is the buildings marked with a yellow circle that ACTED then look to repair.
This process has allowed ACTED to identify over 300 houses that could be repaired and made safe. This work is now underway, meaning that hundreds of families will soon be able to return home.
ACTED had already assisted thousands of people in the earlier stages of responding to the earthquake, by providing clean water, sanitation, emergency shelter and cash-for-work schemes. This work was also supported by UKaid, as part of the British government's overall humanitarian response.
About ACTED
ACTED is an international humanitarian organization, non political and non religious, based in France and working since 1993 and now active in 25 countries. The organization's mission is to save lives, respond to humanitarian needs and assist vulnerable populations during crises, through Emergency, Early Recovery and Development activities.
ACTED has a long term experience in post-crisis contexts, helping rural and urban communities recover from the impacts of disasters, re-launch economic cycles and reconstruct habitat and local infrastructure. ACTED has developed a core expertise in humanitarian response to natural disasters by implementing programs of shelter construction, emergency distributions, WASH, assistance to displaced populations, support to livelihoods and rehabilitation of community infrastructure.
For more information on how ACTED is helping in Haiti, please visit http://www.acted.org/en
Published 11 January 2011