Case study
Gwynedd's Offer (North Wales)
NDA helped fund action outlined in the Wales Rural Development Plan to address the economic challenges faced by Gwynedd in North Wales.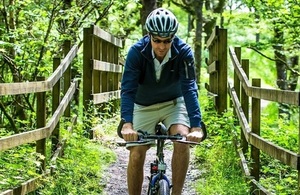 | Nearest NDA site | Duration | Total investment | NDA contribution | Partners | Delivered by |
| --- | --- | --- | --- | --- | --- |
| Trawsfynydd | 2009 to 2011 | £712,000 | £96,000 | Snowdonia National Park Authority, North & Mid Wales Tourism Partnerships, Gwynedd Council, NDA | Gwynedd Council |
Outcomes:
23 tourism-related wildlife events
attracting almost 2,000 visitors
including more than 20 local businesses
13 new digital information points
a dedicated 'Discover Gwynedd' website
almost 4,000 extra tourists during the project period
15 jobs safeguarded
Wales' Year of Legends / Blwyddyn Chwedlau Cymru
The small, remote communities dotted around Gwynedd share a unique cultural and linguistic heritage that attracts visitors from across the globe, but they often face real economic challenges.
The need for action is outlined in the Wales Rural Development Plan (RDP), part of a European funding programme working to tackle matters affecting rural areas.
The Plan's specific areas of focus include agriculture, forestry, ecosytems, wildlife and tourism.
Gwynedd Council submitted proposals for four schemes that would work together in support of local enterprises, building on natural resources, Welsh products and encouraging innovation. In particular, groups targeted for support were small and micro enterprises, women, community groups, the under-employed, elderly, young people and Welsh-speaking communities.
One of the schemes, Gwynedd's Offer, was a multi-stranded project aiming to maximise benefits from the natural environment and local products.
Working alongside local businesses, an experimental series of online information points were hosted by outlets such as hotels, shops, rural post offices and cafés to promote events or activities. Giving access to a dedicated 'Discover Gwynedd' website which has now been migrated to the Snowdonia Mountains and Coast website, the information points provide a wealth of up-to-date links while also promoting local produce.
Out of the 13 information points originally installed more than six years ago, 10 are still operating successfully.
Meanwhile, 23 environmentally themed events attracted 1,793 visitors during the summer of 2010, when the project first went live. Under the banner 'wildlife theatres', the diverse events were aimed at youngsters, families, tourism staff and businesses.
The events included guided walks looking at local geology, history, wildlife and flora, plus creative workshops, evening rambles along waterfalls and even boat trips.
Together with the information points, it was estimated that almost 4,000 extra tourists travelled to the region.
Additional funding of £150,154 through the RDP has enabled the scheme to expand information points into Anglesey and host a further 61 wildlife events across both counties. A symposium hosted by TV presenter Iolo Williams was attended by 40 businesses, promoting opportunities for building on the area's nature and wildlife to help enhance the experience for visitors.
Gwynedd Council Project Manager Sioned Morgan Thomas said:
We're essentially aiming to make the most of our natural assets, working alongside communities and businesses, bringing value to the more peripheral areas.

All the events were designed around mountains, the coast, woods and rivers. While we didn't set a specific target, we wanted to increase visitor numbers and at the same time, help encourage tourism businesses to act as 'wildlife' ambassadors and ensure that they also benefit from these natural assets.

We've also hosted events for local primary schools, along with North Wales Wildlife Trust, encouraging them to explore their environment.
Published 23 March 2018