Growing poppies instead of opium in Afghanistan
How improved security and agricultural support from the UK is helping Afghan farmers to move away from growing poppies to more sustainable crops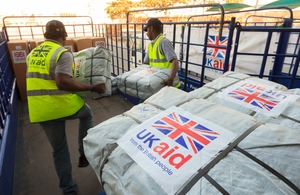 Afghanistan currently produces 90% of the world's opium, the key ingredient in heroin. The UK-led Provincial Reconstruction Team in Helmand Province is helping Afghanistan to tackle the country's illegal drugs trade which destroys lives around the world.
At a new training college, young Afghan farmers are learning to grow legal crops that can give them an alternative income to opium. Established farmers are destroying poppy fields so they can use the land to grow wheat and other crops from subsidised seeds.
A student at the UK funded agricultural college explains the situation and his hope for the future:
"Helmand is an agricultural province, and everyone supports farmers and understands farming. Children grow up working on the farms, and will spend their entire lives working the soil.
"Today, the international community knows that Afghans want to eliminate the poppy. Of course we do. We don't want the next generation to be addicted to this evil thing.
"We can rebuild this country. Because if we had security and peace, we could dream big things for this country. I hope that one day, Afghanistan will finally be at peace. And that our dreams can finally come true."
This work is seeing results - poppy cultivation in Helmand is falling as farmers start to grow new crops. Opium production is currently at its lowest level since 2003 - after poppy cultivation fell by 33% in Helmand in 2009 and by a further 7% in 2010.
To curtail the traffickers, Afghanistan's counter narcotics police play a crucial role finding and destroying smuggled drugs before they leave the country.
Published 26 May 2011