Girls determined to get an education
How school bursaries are changing girls' lives in Tanzania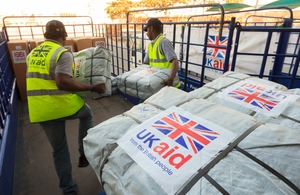 At age 13 Yacinta had to drop out of school because her family could not afford to pay her fees. In the hope of earning enough money for her education she left to work as a domestic servant in Dar Es Salaam, Tanzania.
For a year and a half she worked 18 hours each day and was paid $13 a month. Then, through a UK funded partner organisation Camfed, her life changed. Camfed offered to support her through secondary school and she was able to return home and go back to school.
Camfed fights poverty and HIV/AIDS in Africa by educating girls and empowering women to become leaders of change.
Keeping girls in school can change everything
Educated women have better maternal health, fewer and healthier children and increased economic opportunities.
An additional year of schooling for girls reduces the probability of child mortality by 5 to 10%, and an extra year in primary school boosts girls' eventual wages by 10 to 20% and in secondary education by 15 to 25%.
This helps to pull families out of a cycle of poverty, as women put an average of 90% of their earnings back into the family.
As Yacinta explains, "even if I have children, I will pay for their studies myself and would also like to help less fortunate people."
UK aid has helped Camfed to develop, train and strengthen community support networks around schools in Tanzania to run bursary and grant education programmes effectively, so that help reaches the children who need it most.
More than 55,000 girls in Tanzania have benefited through a range of Camfed programmes funded through UK aid.
Educating girls is one of the best investments
Jane's story is another example of this type of support. The daughter of a single mother with a disability, her mother is unable to work and could not afford to send Jane to school.
So at the age of 8, Jane was sent to the district of Kilombero to work as a domestic servant. Her employer was sending her own children to school, so Jane asked if she could have the opportunity to attend school as well and she was allowed to enrol.
Her employer, however, did not relieve her of any of her domestic servant responsibilities, and she had many hours of housework to complete each day in addition to school.
On top of this, she had to walk 20 kilometres a day to get to school - so she was often late and missed lessons. But Jane was determined to finish school so she studied whenever possible, and was able to pass her exams to go to secondary school.
Her employer refused to continue to pay for her education though and Jane had to drop out of school. Fearing she would never complete her education, Jane confided in the headmistress, who recommended her for Camfed support.
Once Camfed began supporting Jane, she no longer had to balance school and work, and her performance greatly improved - she went from being ranked 80th in the class to being ranked 17th. 
"If I hadn't been supported by Camfed, I might have been married by now, and I would probably be stuck in poverty forever," says Jane. "With my studies going so well and my whole secondary school education paid for, I am hopeful that I can make a good future for myself and my family."
In sub-Saharan Africa, 24 million girls can't afford to go to school. UK aid is helping to reach 457,499 vulnerable girls through Camfed projects across Tanzania, Zambia, Zimbabwe and Malawi. 
DFID's wider work on girls education
Moving forward the UK will work with the Tanzanian government to help increase the number of girls completing primary education and transferring into secondary by supporting 75,000 girls to finish primary school and 40,000 girls to complete secondary school. We will improve the quality of education received by training more teachers and investing in schools' infrastructure, including sanitation facilities. 
We will increase the numbers of girls in primary and secondary school in all 23 of our country programmes where we give support to education.
We will help girls to stay in school beyond primary level to make sure they get the full benefits from education which will transform their lives and opportunities.
UK aid will be supporting more than 9 million children in primary school by 2014 - of which at least half will be girls. And, by 2014 we will be supporting 700,000 girls in secondary education.
Key Facts
*About 17% of the world's adults - 796 million people - still lack basic literacy skills. Nearly two-thirds are women
*Inequality for girls and women continues to hold back progress in education. Had the world achieved gender equality at the primary level in 2008, there would have been an additional 3.6 million girls in primary school
*Gender disadvantage is costing lives. If the average child mortality rate for sub-Saharan Africa were to fall to the level associated with women who have some secondary education, there would be 1.8 million fewer deaths
*Women with secondary education are far more likely to be aware of measures for preventing mother-to-child transmission of HIV, which contributed to an estimated 260,000 fatalities from HIV-related illness in 2009. In Malawi, 60% of mothers with secondary education or higher were aware that drugs could reduce transmission risks, compared with 27% of women with no education.
Published 7 March 2011