Girls decide: Tackling child marriage and early pregnancy in Bangladesh
Hosna's father was planning for her to get married, but with help from a UK aid funded partner organisation, IPPF, she was able to make an informed decision about her future.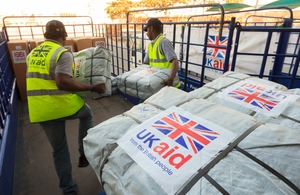 Video from IPPF tackling child marriage and early pregnancy in Bangladesh.
This film is a dramatisation of a true story. It was developed in participation with the young woman by the International Planned Parenthood Federation (IPPF).
"I am a girl with a choice," says Hosna, 14, who lives in Bangladesh. Her father was planning for her to get married, but with help from a UK aid funded partner, IPPF, she was able to access services, information and support to make an informed decision about her future.
The Family Planning Association of Bangladesh (FPAB), an IPPF Member Association, collaborates with community partners and provides services to support girls and end child marriage.
Through the support they provide at Hosna's school, she had a counsellor she could confide in.
"Through talking with the counsellor, my teacher and the Imam, my family have agreed to take part in a meeting with the FPAB to discuss the suffering I might face during pregnancy and the illegality of child marriage."
The challenge
Nearly 10% of all adolescent girls in low and middle income countries become mothers before they are 16.
The majority are married, like Hosna's friend Salma who married when she was 14. "She had a baby that died as soon as it was born. Salma bled a lot during the birth and she is very weak now."
Girls aged 10 to 15 are five times more likely than women aged 20 to 24 to die in pregnancy and childbirth.
The FPAB is working in madrasah schools across Bangladesh. Madrasah schools offer an Islamic-focused education to poor young people.
The FPAB analysed Islamic teachings and demonstrated that they oppose dowry and child marriage, and support gender equality with regards to access to education, health care, and economic resources.
Through the FPAB's intensive and sustained advocacy they secured the support of madrasah authorities for peer education and sexual and reproductive health services inside the madrasahs and in the wider community.
Combating violence against girls and women
Child brides are often withdrawn from school and are at risk of violence, coerced sex, dying in pregnancy and childbirth and sexually transmitted infections, including HIV.
Islamic leaders are now using their authority to promote women's rights within Islam. As Maolana Md. Naoshad, Imam at the Khadalbaria Mosque explains: "FPAB is explaining the reasons why women experience gender-based violence in society, how we can prevent this violence from happening and how we can help the victims of this violence. The people who are influential in the village need to be motivated first, if they understand they can influence others."
How UK aid is helping
Teenage pregnancy is the number 1 killer worldwide of women aged 15 to 19 years old. In 2009, IPPF prevented an estimated 1.92 million unintended pregnancies among young women (under the age of 24 years).
In Bangladesh alone, the FPAB averted 96,000 unintended pregnancies among young women. UK aid supports IPPF to help empower women and girls to choose whether, when and how many children to have, and ensuring pregnancy and child birth are safe.
Our wider work on women and girls health
The British Government is committed to enabling 1 million young women aged 15 to 19 to access family planning and delay their first pregnancy. We will focus on helping girls get an education, particularly through to lower secondary school. Adolescent girls who are in school are likely to marry later, less likely to have premarital sex and more likely to use contraception.
Key Facts
Worldwide, more than 60 million women aged 20 to 24 were married before they turned 18.
In South Asia, over 48% of 15 to 24 year olds were married before they reached 18.
In Africa the average figure is 42% (though in some countries in East and West Africa, the figure is as high as 60%). In Latin America and the Caribbean the figure is 29%.
UK aid provides approximately 20% of IPPF's unrestricted income.
A person received a contraceptive service at an IPPF service delivery point 131 million times in 2009. One in every three IPPF clients is a young person.
In 2009 there were 64,535 IPPF service delivery points - McDonalds has 33,000 service delivery points. (The vast majority of the IPPF service delivery points are either community workers/volunteers or local stores).
Published 7 March 2011