Case study
Fairfield Control Systems: keeping knowledge, building skills
Fairfields, an SME based in Retford, Nottinghamshire, are experts in designing, building and commissioning control systems for a variety of industries. They first introduced apprenticeships back in 2000 and have been a strong proponent of them ever since.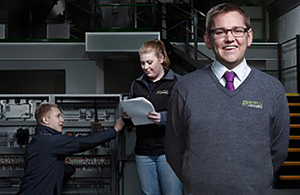 Competitive edge
Occupying a niche market and with just over 45 staff, Fairfields' work requires a team of highly-skilled engineers. Apprenticeships are key to maintaining and developing this expertise, with 30% of Fairfields' workforce made up of those who have undertaken an apprenticeship.
Fairfields take on up to 3 apprentices a year, who embark on an extensive 3-year Higher Apprenticeship. Following successful completion of their apprenticeship, Fairfields continue their support by sponsoring them through a part time top up degree for a further 2 years. Apprentices at the organisation spend the 3-year programme rotating around each department, spending roughly 6 months in each area to get a thorough understanding of the business. Following this, apprentices are employed on a full-time and permanent basis in their preferred specialism, alongside studying for their degree.
Developing – and retaining - young talent
Oliver Mangham, Applications Director at Fairfields says:
Apprenticeships help us identify and nurture young talent – they are part of our future. Good, well-rounded engineers are hard to come by and, as a small business, apprenticeships give us a competitive edge by providing the valuable opportunity to train young people the way we want them to be trained from the beginning!
Apprenticeships bring much more to the business than young talent, as Oliver explains:
Our industry requires a high level of innovation and our apprentices bring new ideas, a great spirit, and bundles of enthusiasm.
Furthermore, at Fairfields, apprentices are some of their most loyal employees, with a 95% retention rate, compared to 40% for graduates.
Growing their business
The organisation attend open days and frequently go into local schools and colleges. They also offer summer placements to students in order to give them an insight into the business before applying to the apprenticeship programme.
Oliver believes this kind of outreach is vital, he explains:
I've often spoken to a number of young people who say they never realised these kind of opportunities were out there. It's essential we encourage young people to consider the numerous ways they can kick-start their career!
The organisation plans to open another office in Gloucester in March, where they will also roll out their apprenticeship programme.
Oliver explains:
When we were considering the location of our new office, good links to local colleges and universities were an important part of that decision. After 17 years working with apprenticeships we know that continuing to attract and develop local talent is essential to the continued success of our business.
If you are interested in finding out more about employing apprentices and the benefits they can bring to a business like Fairfields, fill in our enquiry form to receive a call from an experienced adviser.
For information about how apprenticeships can work for your business, visit hire an apprentice.
Published 27 February 2018