Case study
DESG Graduate Scheme: Matthew
Case study of a computer science graduate on the MOD Defence Engineering and Science Group (DESG) graduate scheme.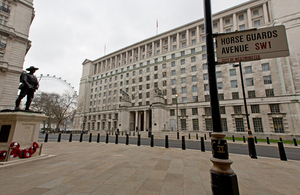 Matthew graduated from University with a degree in Computer Science.
Matthew's first placement:
My first placement on the DESG Graduate Scheme was a cryptographic equipment replacement programme, a rapid introduction to the world of major defence projects. But my line manager was an old hand, and got me settled in quickly.

Next I went to work with one of the Army Trials & Development Units, testing some of the latest signals equipment before it was released to front-line service. I lived on camp in the Mess and worked within a military unit, which was an interesting experience.
Highlights of career to date:
I then went on to work on a project replacing the software underpinning a lot of the UK's simulated training. This involved a lot of travelling to talk to suppliers and stakeholders, where superiors were often looking to me to explain the technical details. Following that I had the opportunity to take a placement in industry with BAE's Advanced Technology Centre, where I was given my own project to run developing a solution for the UK BMX squad.

This proved to be a lot of responsibility and late nights, but was very satisfying when the prototype was tested and demonstrated successfully to the squad at the National Cycling Centre in Manchester. My last placement was with the Defence Science & Technology Laboratory where I received extensive training in computer networks and network modelling, looking at the impact of proposed protocol changes.
Further study:
I successfully made the case to be allowed to study an MSc in Defence Modelling & Simulation at the Defence Academy in Shrivenham, funded by the DESG scheme, and spent the next 11 months living and working there. I am now looking to take up a position back in the Training and Simulation team where I can put what I learned during the course to use.
Opportunities on the scheme:
In my time on the scheme I have been lucky enough to see both cutting-edge Typhoon fighter jets and vintage planes from the Battle of Britain Memorial Flight up close at RAF Coningsby, tour the nuclear attack submarine HMS Astute, and even take a 3 day course in firearms design (including lots of range time). The DESG scheme offers unrivalled scope for training and experience for those proactive enough to seek it out.
Published 12 July 2017