Case study
DESG Graduate Scheme: Jacqui
Case study of a graduate on the Defence Engineering and Science Group (DESG) Graduate Scheme, now working as a Naval Architect in the maritime area of the MOD.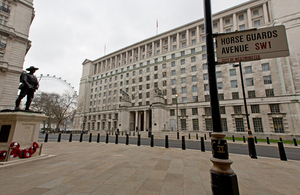 I chose the MOD's DESG Graduate scheme because I really liked the idea of trying out different areas of the business before choosing where to work within the business. I now work as a Naval Architect in the Maritime Area of the MOD.
I wanted to experience working with both submarines and surface ships and so did a placement in In-service Submarine Structures and Capital Ships.
My first DESG Scheme placement was a huge leap into the unknown; I had no previous knowledge of MOD; so I learnt a lot. I was given lots of opportunities for visiting the boats in Devonport which really helped further down the line on the Submarine Design course. My second placement was in a specialty helping with incline experiments, escape and evacuation surveys and learning how things work at Abbey Wood (MOD's base in Bristol).
I also went on a special Submarine Design course at a leading University to complete the picture before going back to the MOD.
My third placement was with a major MOD contractor in Portsmouth, the highlight of which was a week long trip from Malta to Gibraltar on HMS Somerset. The contractor was on board to carry out a Dynamic Machinery Trial. I spent the time learning from the officers on board about all the systems. It was pretty exciting seeing the ship doing figure of 8s at full speed in the middle of the Mediterranean! Also while the ship was slamming in heavy seas during a storm (whilst feeling a little sea sick!) it was exciting to see how the officers reacted.
I decided to get some time out in industry before choosing which particular area of MOD I wanted to work within, so I did a placement with a luxury motor yacht manufacturer. I spent six months working in the boat yard a new production line. The boat yard is run so differently to Devonport or Portsmouth so it was very interesting to work in that environment.
I regraded (MOD speak for finishing the graduate scheme and finding yourself a position) into a post in Ship Support Alliance. I now work in the Landing Craft team on the In-service support.
The DESG Graduate scheme is a great way to find out which areas interest you most and experience different areas of the business before settling down in a permanent post. By joining the DESG scheme you are essentially joining a big network of similar people across the business all willing to help you progress on your career path.
Published 11 June 2013