Case study
DESG Graduate Scheme: Caroline
Case study of a graduate on the MOD Defence Engineering and Science Group (DESG) Graduate Scheme, now working as a Systems Analyst for weapons.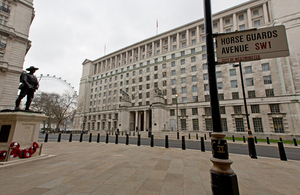 Caroline has a degree in mathematics. She's currently working in the Assessment Group within a project team at the Defence Engineering & Science Group (DE&S), dealing with weapons.
I was searching for a role that would involve applying my mathematics knowledge and skills to a real world problem. I wanted to try my hand at something more technical and this was the ideal solution. At a careers fair at university I spoke to some people on the stand for DESG. It really interested me and I was quite excited at the prospect of working for such an organisation.
The DESG scheme provides so many opportunities that make your two years on the scheme a great experience. The placements available are very varied, in all different locations and concerning a wide area of defence. I wanted to jump on board and get involved. Also, it may sound a bit fluffy, but I liked the idea of working for the public sector, to make a difference and actually work in support for our country's defence.
The job provides me with the opportunities to try Operational Analysis supported by computer modelling to help solve some of the complex problems facing the DE&S. The work I have undertaken so far has been quite varied and I enjoy learning about the different areas of defence I am based in, from communications to aircraft to submarines.
I have had so many great opportunities since being on the scheme. Being one of the last civilians to fly on the Nimrod MR2 before it went out of service this year was amazing. There's nothing like it ! Feeling air sickness and sea sickness at the same time as you fly extremely close to the waves, rocking and rolling around. I was in the cockpit admiring the views. It was great to experience a sortie and to learn firsthand from the flight crew what they did.
I have also been in the sinking ship simulator, such an adrenaline rush, for a ride in a Challenger 2 and I trusted a marine to stop me plummeting to a concrete floor by pulling on a rope with the Fast Roping Team. On the scheme you certainly get to meet lots of interesting people who are more than happy to share their experiences.
Short term I am hoping to develop my modeling and analysis skills further, and to get out to the States in the New Year for 3 months. More long term I am looking to find a role that satisfies my passion for a challenge and continues my development. It may be where I am now but with just under 12 months left on the scheme who knows what is in store just around the corner. I am also working towards becoming a Chartered Mathematician, and would hope to achieve this within a year or so of leaving the scheme.
The DESG scheme is a great way to experience all the different areas of the MOD. The training and development you will receive is hard to beat. Around 2 years on the scheme will set you up for a varied and interesting career in the MOD. I would definitely advise this scheme or one similar rather than coming straight into a post, you may think you know what you want to do but you can't really know until you've experience what's available. People definitely underestimate how varied MOD careers can be, I certainly did. The beauty of working for the MOD is that your development never stops and there are always different roles to move into and to try.
However my main advice would be that you get out what you put in. There are some amazing opportunities available but they won't fall into your lap. You need to make the most of the people you meet, and never be afraid to ask the cheeky questions of whether you could take a placement with them, the worst that can happen is they say no!
Published 11 February 2013