Burma: six months after Cyclone Giri
How Britain is helping Burmese people rebuild their lives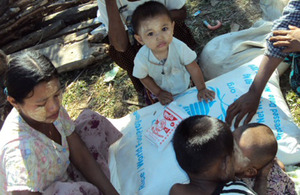 Life after Giri
Than Than, a 19 year old mother of 2 from Shin Jet village on the western coast of Burma, was 9 months pregnant when Cyclone Giri made land-fall on 22 October, destroying her home and the 1 month rice stock she had. Her husband, a casual worker, could not find a job in the aftermath of the disaster and after she gave birth to her third child, the family was desperate to provide decent living conditions for their new born.
Than Than's family were among the 100,000 made homeless, and the 260,000 people affected by the cyclone. In the worst hit coastal townships of Rakhine State many thousands lost their entire annual crop, small livestock and access to clean water and sanitation. There was significant damage to agriculture and the means by which people make a living. In some areas, more than half of the embankments that protect agricultural land and fish farms from sea water were damaged. 
Support from the UK
A Consortium of British Humanitarian Agencies, supported by the UK government, were amongst the first to come to the aid of survivors with emergency food aid and relief items.
In November, International Development Secretary Andrew Mitchell pledged a further £3 million of UK support - no money was given to the Burmese government. Through the United Nations' World Food Programme (WFP), the International Organisation for Migration, International Rescue Committee, Merlin and Save the Children, the UK government provided:
41,000 people with 3 months of emergency food aid
50,000 people with emergency health consultations and 43,000 people with bed nets to reduce the risk of malaria
restored 90,000 people's access to clean water
Relief for Than Than
Than Than was so happy when WFP and Save the Children arrived at her village.
"They gave us a card to collect our food and informed us that we would receive full rations of rice, pulses, oil and salt for the next 3 months," she said. She explained that the food not only saved her family from immediate hunger but meant that she could also rest, knowing that she would have enough to feed her children, and breast-feed her newborn. Her husband could also start repairing their home.
Six months on from the cyclone, the UK government is now supporting the repair of community embankments to protect farmland from sea water intrusion, making over 21,000 acres of agricultural land available for cultivation, supplying seeds, fertiliser and tools to enable 7,000 farmers to plant rice before the next rainy season and providing boats and nets to enable 4,800 fishing households to start fishing again. 
Dan Collison, Director of Programmes at Save The Children said:
"DFID has been one of the very few donors to have made resources available to support livelihoods recovery. With DFID support Save the Children has worked with partners and communities to repair more than 50 miles of embankment, protecting acres of land, and to provide the agricultural inputs that will allow production and incomes to be restored."
Committed to helping the people of Burma
UK aid for people affected by Cyclone Giri will be £6 million in 2010 and 2011. Paul Whittingham, head of DFID's Burma office, said:
"Cyclone Giri - and the suffering it caused to a quarter of a million people in Burma - went largely unnoticed by the outside world. But because the UK is one of the few donors based inside the country we were able to respond quickly, through the UN and international NGOs but also through local organisations, who provided the greatest support."
In March DFID announced a significant scaling-up of UK aid to the people of Burma. The UK will spend an average of £46 million per year until 2015 - no money will be given to the Burmese government. This assistance will prioritise health, education, livelihoods and civil society. Paul said: "We are committed to helping the people of Burma and we will use UK aid to lay the foundations for longer term poverty reduction and change in the country."
Published 4 April 2011