Beattie Passive opens new factory to meet demand for retrofit
Innovate UK helps Norfolk construction firm develop a 'wrap around' building system that can achieve dramatic savings in home heating bills.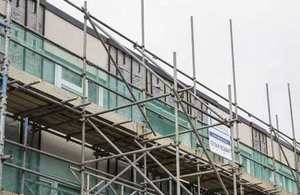 A Norfolk company has launched an innovative retrofit build system that can reduce heating bills on cold, poorly performing homes by up to 80%.
Beattie Passive Construction's 'wrap-around' solution, called TCosyTM, has been developed with support from Innovate UK.
The market is huge, with 20 million homes in the UK alone needing a low-energy retrofit. Beattie Passive has secured patents in 57 countries.
Beattie Passive system explained
TCosyTM takes retrofit beyond mere wall, window and roof insulation by embracing ventilation too. That is important in preventing the respiratory problems increasingly found among residents of air-tight, poorly retrofitted buildings.
The Hethel company's approach, founded on the Passivhaus energy performance standard, also involves using locally-trained labour and building the structure off-site. It means that on-site construction can be more productive, taking as little as three weeks.
The occupants do not even have to move out during the retrofit works.
The latest to benefit are residents of 6 flats in a 3-storey, apartment block owned by Solihull Community Council. Innovate UK awarded Beattie Passive £210,000 towards a 3-year collaborative R&D project with Encraft, a low-carbon buildings engineering consultancy, and Coventry University.
Housing associations and private clients
The company worked with a social enterprise called Jericho Foundation to train people facing significant personal or occupational barriers to build the system locally.
Beattie Passive has undertaken other jobs for housing associations and private clients. Another project in Birmingham is due to start in June, to be completed in September.
Managing director Ron Beattie founded the company in 2008 after a career in property development. He said:
The big obstacle, like any small company, is finance. Without Innovate UK, we'd never have got this off the ground. It's been great that they've supported us in that – also having the testing processes that prove we can deliver energy savings over the life of a building.
Retrofit can help regenerate communities
Ron believes the long-term future of retrofit does not depend on public sector investment alone and that the roll-out of retrofit can help regenerate communities.
Once we can guarantee energy savings, we believe that pension funds and other long-term investors will be prepared to lend over 30 years, with a return after that. And we will have pulled people out of fuel poverty.
The market is massive. We showed estate agents in Birmingham what we're doing and their studies suggest a £65,000 uplift in value on a £120,000 property, because you are putting a new building over the top of the old one. If redecorated, with a new kitchen and bathroom, you're looking at a completely new house.
Employment at Beattie Passive has risen to 10 office-based staff with a growing team of contractors on-site, and they have just opened a factory on the Scottow Enterprise Park, formerly RAF Coltishall. Ron added:
We have new sales staff and an architect. Work is coming in and growth is going to be very fast. We recently started manufacturing in the factory and now we've got seven or eight homes booked in, ready to go.
They range from private client, multi-million pound houses to standard affordable homes for Hertfordshire Council – different ends of the market, but the same process.
Published 23 March 2016
Last updated 13 April 2016