Case study
Barnsley Hospital NHS Foundation Trust get certified
Barnsley Hospital NHS Foundation receives the commissioner's third party certification mark.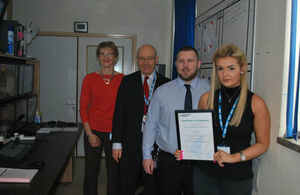 Barnsley Hospital NHS Foundation Trust had been considering applying for the Surveillance Camera Commissioner's third party certification scheme for some time. It wasn't until their Head of Business Security, Mike Lees, heard Tony Porter speaking at a conference that they decided to go for it.
Mike Lees said:
Although we had been considering applying for some time, the turning point followed an excellent presentation by the commissioner to NHS security managers late last year. This presentation clearly outlined the advantages to NHS organisations of following a process and how we could demonstrate the rationale of surveillance use.
Certification enables organisations to clearly demonstrate that they comply with the surveillance camera code of practice. For relevant authorities (such as local authorities and police forces) this is particularly important, as they must show due regard to the code. For other organisations, such as NHS trusts, following the code is voluntary.
Providing assurance
The certification process provides assurance to hospital users and staff that surveillance cameras are used effectively, efficiently and proportionately. It also ensures that trusts are transparent about why they use cameras and where they are sited. Barnsley NHS Trust approached the Security Systems and Alarms Inspection Board (SSAIB) and subsequently achieved step 1 certification.
This involves completing and submitting the commissioner's self assessment tool to one of the certification bodies. The completed form and documents will then be audited by the certification body who may contact your organisation for more information before recommending them to the commissioner to award his certification mark which can be used for 12 months.
Mike Lees added:
The certification process was challenging but very worthwhile. It allowed us to critically review the reasons for surveillance and scope these against our existing policies and procedures.
Accessible and affordable
Certification is simple, accessible and affordable and there are 3 security industry certification bodies that are currently qualified to audit against the code of practice – the SSAIB, NSI and IQ Verify. Barnsley are already preparing their application for step 2 certification – a full visit and audit, if successfully awarded the certification mark they can use it for 5 years.
Mike Lees said:
Our application for step 2 is already under way and the trust will be applying well in advance of the 12 month period that step 1 lasts for. I'd recommend any trust, or organisation for that matter, using surveillance cameras to apply for the mark without hesitation!
Find out how you can have your scheme certified against the surveillance camera code of practice.
Published 15 March 2017