Foreign travel advice
Guinea
COVID-19 Exceptional Travel Advisory Notice
As countries respond to the COVID-19 pandemic, including travel and border restrictions, the FCO advises British nationals against all but essential international travel. Any country or area may restrict travel without notice. If you live in the UK and are currently travelling abroad, you are strongly advised to return now, where and while there are still commercial routes available. Many airlines are suspending flights and many airports are closing, preventing flights from leaving.
Summary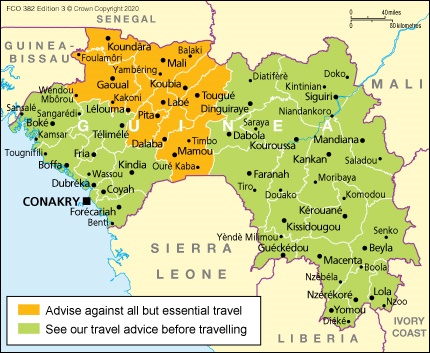 Cases of coronavirus (COVID-19) have been confirmed in Guinea. The Guinean authorities have introduced a number of measures to limit the spread of the virus and an announcement was made on 23 March that Conakry Airport would be closed until further notice. Travellers should speak to their airline or tour operator promptly for further information regarding flights. See Coronavirus.
There have been regular demonstrations in Guinea since October 2019 leading to significant travel disruption and a number of violent incidents including deaths. Protests in Middle Guinea in January led to several public buildings being ransacked and set on fire and increased criminal activity. The National Front for the Defence of the Constitution (FNDC) have continued to call for demonstrations. Demonstrations may be spontaneous and unpredictable, with routes blocked. There has been damage to vehicles passing through or around demonstrations as well as an increase in criminality. Serious violence occurred around the legislative elections and referendum which were held on 22 March 2020. Demonstrations are likely to continue. You should exercise caution and be vigilant, staying clear of demonstrations and monitor local media. "Villes mortes" (general strikes) happen intermittently. See Political situation
Terrorist attacks can't be ruled out. Attacks could be indiscriminate. You should be vigilant, especially in places visited by foreigners. See Terrorism
The Guinean authorities maintain police and local militia checkpoints across the whole country. Carry identification with you at all times. See Road travel and Local laws and customs
Motorists have encountered theft at gun point, particularly at night. See Crime
Road travel can be hazardous due to poor driving standards and the state of the roads. Essential supplies, such as fuel, may run low from time to time. You should avoid travelling at night outside Conakry. See Road travel
Exchanging foreign currency on the street or using unofficial money changers is illegal and can result in military detention. See Money
If you need urgent consular assistance, call the British Embassy Conakry. See Consular assistance
Take out comprehensive travel and medical insurance before you travel.